Did you know that shakshuka literally translates to, "the best, most delicious eggs in the entire world?" Neither did I! Okay, maybe not. But that doesn't change the fact that Shakshuka is outrageously delicious and dead simple to make.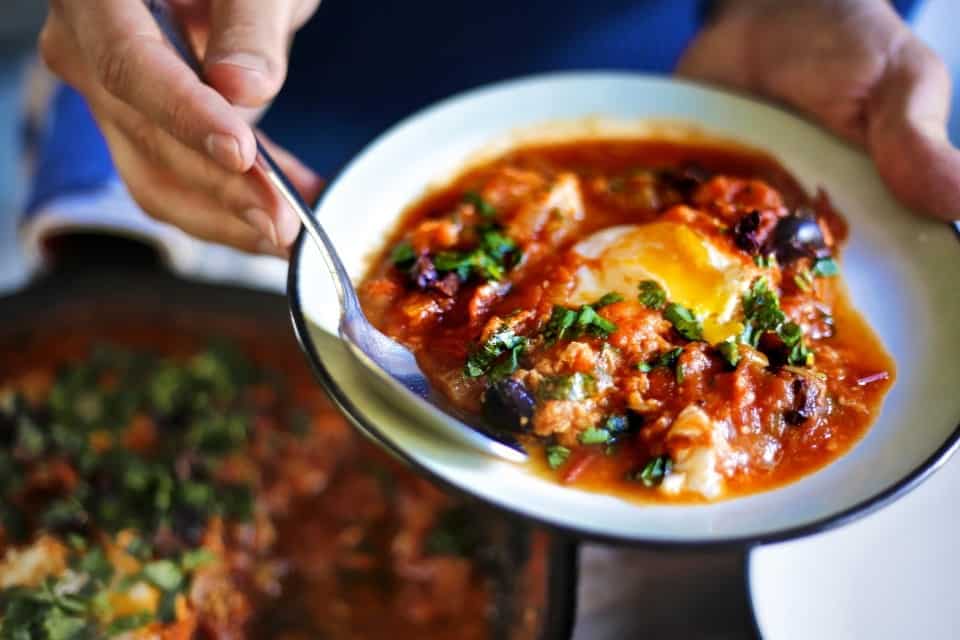 Shakshuka is believed to have originated in Tunisia and can be loosely translated to "mixture" or "mishmash" in certain dialects. Essentially, shakshuka is a dish in which eggs are poached in a tomato sauce. The type of sauce really depends upon who is making the dish and where they learned it. Believe it or not, I only tried shakshuka for the first time about a year ago when my mom invited Catalina and I over for lunch. When we arrived she said she made eggs. Eggs for lunch?
As usual, I didn't wait for the food to be brought to the table. I had to get a taste right away, while it was still on the stove and in the pan. I walked over and gently removed the lid from her beloved Le Creuset braiser. A puff of steam rose to engulf my face, giving me a quick facial in the process. Once the steam dissipated, I peered down into a glorious pan full of reds, yellows and greens. The eggs were delicately poached to a perfect softness. The tomato sauce was chunky yet juicy. It looked like it had been made with fresh tomatoes rather than tinned ones. Silky ribbons of tomato skin were scattered on the surface. Olives and cilantro garnished the pan and brought vibrancy to the entire dish. It looked like a Matisse painting! Its beauty struck me. My mouth watered.
I asked my mom what this concoction was called.
"Shakshuka," she said.
"Gesundheit," I replied.
"No, silly boy, that's what this is called. Shakshuka!" mama corrected.
"Ohhh, I think I've heard of this before. Looks good mama! Let's eat!"
I pierced the yolk of the egg with my spoon and let it run overtop of the rich tomato sauce. I amassed as much as I could onto my spoon and barbarically shoved it into my mouth. The shakshuka was bursting with flavour! I tasted the acidity and juice of the tomato first. Then heavy notes of garlic and onion coated my mouth. All of it was rounded-off by the freshness and citrus of the cilantro and the brine and saltiness of the olives. Finally, a spicy note hit the back of my throat. It was triumphant! I was in love! I wanted more! I needed more! I gobbled down the entire plate and went in for seconds. Where has this Shakshuka been all my life?
I asked my mother how she made it. Her answer shocked me. It was so simple. Sauteed garlic, onion and fresh chilis, followed by fresh tomatoes, and, finally, eggs. I sat in disbelief, shoveling down my second round of shakshuka. How was it so juicy? How was it so flavourful? How was it so comforting? She forgot to mention the most important ingredient: love!
I started experimenting with the dish on more than one occasion. I cooked it nearly every weekend and sometimes during the week when I worked from home and had the ingredients on hand. It was especially good during the summer months when tomatoes were at the height of their season. It was even better towards the end of summer when the tomatoes were practically bursting at the seams with juice. During the winter, I tried using tinned tomatoes – crushed, whole and even pasata. None of these offered the same texture and flavour as fresh tomatoes. I tried adding things like bell peppers and carrots, ingredients that many others claimed would result in the "world's greateast shakshuka." Meh, I wasn't impressed. I added different spices like turmeric, cumin, & cardamom. Again, very popular in the shakshukasphere. They still weren't as good as my mother's.
I realized that when it comes to Shakshuka purity reigns supreme. Keeping things simple and easy is the only way to highlight the two star ingredients – the tomatoes and the eggs. These are the foundations for a good shakshuka. I did, however, replace my mother's fresh chilies for something a bit more Tunisian. I went to my local middle eastern grocer and purchased a small tin of Harissa (a magical Tunisian chili paste). I also wanted to add a secondary spice note to the dish so I added my absolute favorite thing in the entire world, smoked Spanish paprika. The result is a glorious marriage between the acidity of tomatoes and richness of the eggs, with the paprika and harissa standing in as the maid of honour and best man.
The best part of this dish? It can feed a crowd in a single pan. Not to mention the fact that it's healthy and will leave you satisfied but not weighed down.
Give it a go and let me know what you think.
Cheers,
Ronny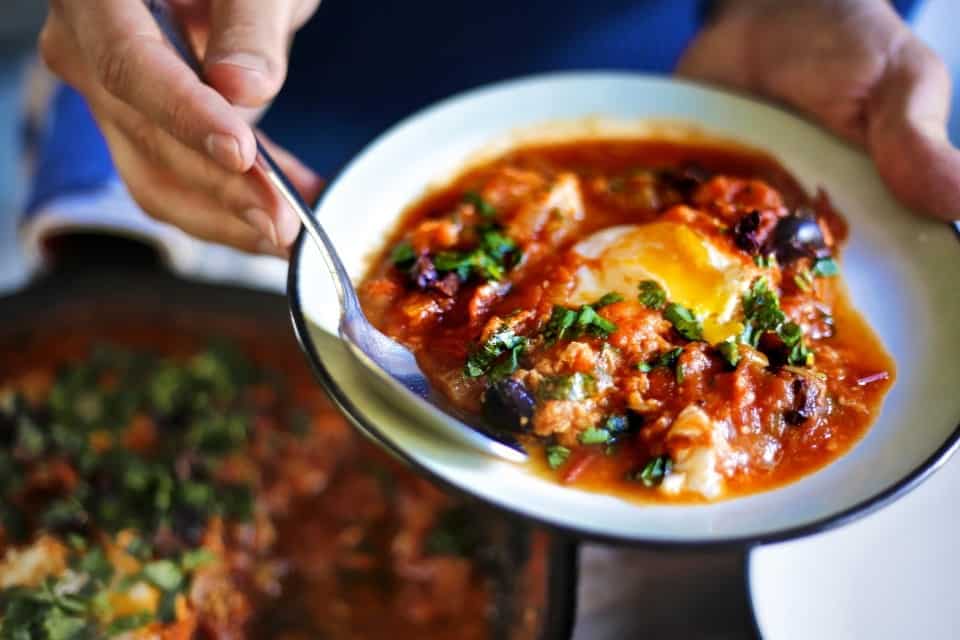 Paleo Shakshuka
N.B: The measurements for this Shakshuka recipe should be taken as a general guideline. Shakshuka is something you should experiment with to find the perfect balance of spice, acidity and sweetness that works for you. Measurements will vary depending on the sweetness of the tomatoes and onion so be sure to taste and season in stages!
Course:
Breakfast, Main Course, Main Dish
Cuisine:
Mediterranean, Middle Eastern
Ingredients
8

free-range, organic eggs

1/8

cup

Extra virgin olive oil

5

large

ripe tomatoes

chopped into 1" cubes

1

medium

onion

diced

3-5

cloves

fresh garlic

roughly chopped

1

tsp

smoked Spanish paprika

1 1/4

tsp

Harissa

more or less depending on personal preference

Salt and Pepper to taste

1

handful

kalamata olives

roughly chopped and pitted

1

handful

fresh coriander/cilantro

roughly chopped (can substitute parsley, mint, basil or tarragon)
Instructions
Heat olive oil in a large nonstick skillet or very well-seasoned cast iron skillet over medium heat.

Add onions and garlic to the oil, season with a pinch of salt and sauté for 10-15 minutes until translucent and soft – stirring occasionally so as not to burn.

Sprinkle in smoked paprika and toss to coat the onions and garlic. Toast for 1 minute, stirring constantly to prevent burning.

Add in tomatoes and season with another pinch of salt and freshly cracked black pepper.

Toss the tomatoes with the onions and garlic. Lower the heat to a medium-low and cover the pan with a lid to trap the steam. Continue to cook the tomatoes for 10-15 minutes, stirring occasionally to prevent the bottom of the pan from burning.

When the tomatoes reach the desired "chunkiness" (very technical culinary terminology, I know!) remove the lid and begin to crack the eggs directly into the tomato sauce. TIP: Using your wooden spoon or spatula, create a small hole in the sauce and crack the egg into the hole you've created. This will help the egg to cook into the sauce, rather than over top of it.

Cover with a lid and cook until the whites have firmed-up but the yolks are still runny – approximately 6-8 minutes (This is personal preference. If you prefer your eggs well done like my picky brother, cook them a little bit longer.)

Serve and enjoy your Paleo Shakshuka.
Recipe Notes
Warning: This recipe may cause kitchen/cooking envy. Primal Gourmet claims no responsibility in disputes that might arise among the best of friends over who should wear the "Best Shakshuka" crown (though if you make this version it will probably be you. Just saying.)