Much like cookware, knives are sold in sets or individually.
Depending on the set you purchase, you're paying for the knife block itself, maybe an included honing rod, kitchen shears, 6-12 steak knives that can't cut through butter, or even a filet knife you will never use because you've never filleted a fish in your entire life and you don't plan on starting now.
Knife block sets can get a bit crazy. I've seen some that include over 20 pieces and cost upwards of $1999.99!
Or, you can spend the same amount of money on three high-quality knives (a Chef's Knife, Paring Knife and an Serrated Bread Knife AKA the Holy Trinity) as you would on a 6 to 10-piece block set of mediocre knives, shears and block, most of which you'll never use.
Personally, I like the idea of buying individually. Chances are you will save money and end up with better quality knives that will last longer. It also allows you to play the field and experiment with different manufacturers or blacksmiths, which is part of the fun in collecting. But you're the boss, applesauce.
If you're still determined to buy a knife set, here are some things to consider…
Knife Block Buying Guide
Cost
When you buy a knife set, brands will often give you a bit of a discount on each piece included. However, you will likely pay a higher overall price for a set than if you were to buy the Holy Trinity individually. And if you buy a set there is still a chance you are paying for things you may not need.
The trade off is that buying a set of knives is far more convenient than sourcing each piece individually and it will save you time.
There is no single answer for how much a knife set should cost. But I always say, "if you buy cheap, you buy twice". Better yet, "if you buy low-quality, you buy twice". Low-quality knives will quickly dull, can easily chip or even break altogether. I will never forget the day my friend broke the blade of his knife in half while trying to cut a watermelon. Thankfully, he didn't hurt himself.
Think of it this way, if you cook often, you probably use your knives more than any other other piece of kitchen hardware. A knife is usually the first thing you pick up and the tool you hold in your hands for the longest amount of time. You want to make sure it's comfortable, sharp, practical, easy to use and built to last.
All knives get dull overtime, even the most expensive ones. The difference is that low-quality knives are much more difficult to sharpen and maintain, which means you will likely have to replace it sooner or later.
If you invest a bit more money, your priority is better quality steel and craftsmanship. Aesthetics and design come second. Quality steel will last longer because the material is more durable, harder and more easy to sharpen. A sharper knife will lead to less accidents because you don't have to press as hard. Better craftsmanship will result in more thoughtful designs that are more comfortable, better weighted and balanced.
Steel is often rated according to the Rockwell Scale. The higher the number, the harder the steel. The harder the steel, the sharper it can get. There are some downsides to harder steel, such as it being more brittle and prone to chipping.
Anything between 57-60 Rockwell Hardness is a very good place to start. It will hold an edge for a reasonable amount of time and be easier to sharpen. It's for this reason I'm such a fan of the Zwilling Pro line, which are rated around 57 Rockwell Hardness.
Above 60 Rockwell Hardness and you're entering Japanese and Damascus steel territory, which is in a league of its own in terms of quality and price.
For a list of the Best Chef's Knives under $100.00, click here.
What's Included?
At the very least, the set should include the Holy Trinity: a 7" or 8" Chef's Knife and a 3" o 4" Paring Knife. Most sets will also include an 8" or 10 " Serrated Bread Knife but very few sets prioritize including a Utility Knife that is at least 5" long, which is a shame because it's such a valuable knife to have.
If you are an enthusiastic baker and bread is your passion then yes, you probably will want a serrated bread knife. Personally, I have a very, very expensive 10" Japanese bread knife that I use maybe 3-4 times a year because I don't eat that much bread. I probably should have thought that purchase through a bit more.
It's important to note that some brands will include a 7" or 8" Santoku instead of a Chef's Knife (or Gyuto) in their knife sets. Both types of blades are practical and good at performing a variety of tasks. Which one you prefer is subjective.
I prefer the shape of a Chef's Knife because the blade profile is better suited to rocking chops and nimble tasks like maneuvering around the joints of a raw chicken. However, I think the flatter edge of a Santoku blade and its rounded point are often better suited for beginners who may inadvertently poke themselves with the pointier tip of a Chef's Knife. There are also rocking Santokus, which look like a hybrid of a Chef's Knife and Santoku.
What's Missing?
If the set does not at least include a 7" or 8" Chef's Knife, a 3" or 4" Paring Knife, and an 8" to 10" Serrated Bread Knife, you should probably explore other options. Unless, of course, you're looking to add to your existing line up.
As mentioned, it's rare to find sets that include 5" Utility knives so I don't think it's fair to dismiss sets based on the absence of this knife. But sets that include this knife tend to win me over.
Does the set come with a honing rod? If not, you'll have to factor in the cost of purchasing one to regularly maintain your knives and keep their edges in line. Same goes for kitchen shears if you need a pair and chances are you do.
Does the set include a knife block? How many slots does it have and what widths are they? If you plan on adding knives to your collection, you will probably want to store them in the knife block you just purchased. But if there aren't enough slots or they aren't wide enough for larger blades, such as a Nakiri, you may want to consider something else.
What colour and shape is the knife block? Do you want it to match the rest of your kitchen? Will you be storing it under your kitchen cabinets and will there be enough clearance for it to fit?
If you plan on using a magnetic knife strip, which I recommend, you probably don't even need a knife block to begin with, in which case you might be better off spending your money on better steel.
Are you Falling into the Trap of 'X' Numbers of Items Included?
Many brands sell gimmicky 12 to 20-piece sets full of things you'll never use only to have you believe you're getting a better deal.
These are often labeled as "Starter Sets" and specifically target new homeowners and/or newlyweds. They are competitively priced and promise to give you everything you need and more.
Like cookware sets, every item sold in the set is factored into the number of pieces listed. For example, a 6-piece knife block sometimes only includes 3 knives along with the knife block itself, a honing rod and a pair of kitchen shears.
Do you really need both an 8" Chef's Knife and a 6" Santoku? Does the set come with two paring knives? Will you ever really use that boning knife?
Be mindful of what you're paying for and don't fall into the trap of thinking your getting a bargain when you're only being played.
Warranty
What's the warranty and fine print?
Will manufacturers replace faulty goods? What's the process?
Will the store you purchase from offer free sharpening?
Always shop around and don't be shy to ask the sales associates if there are upcoming sales (which happen more often than you think!).
Knife Sets for Every Budget:
Bargain: Victorinox Fibrox 4-piece
At only $99.00 on Amazon, the 4-piece Victorinox Fibrox is about as affordable as it gets. Included are a 10.25″ Serrated Bread Knife, 8″ Chef's Knife, 6″ Utility Knife and 4″ Paring knife.
What these knives lack in the looks department, they make up for in their attractive price and sharp edge, which clocks in around 55-56 Rockwell Hardness. They're surprisingly lightweight yet sturdy enough to tackle any kitchen task. They feature an ergonomic handle that is comfortable, non-slip and food-industry safe.
Funded by a massively successful Kickstarter campaign, Misen set out to disrupt the knife and cookware industry. Their knives are sold direct to consumer, which means you don't pay any additional markup by third-party retailers. A mere $130.00 will get you an 8″ Chef's Knife, 10″ Serrated Bread Knife, and a 3″ Paring knife. The knives are made with AUS-8, High-Carbon, Japanese Steel but are made in China near Shanghai.
Misen also provides its customers with a lifetime of free sharpening. You just have to cover the cost of shipping.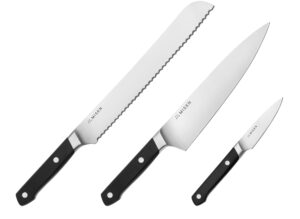 At $299.00, the Zwilling Pro 6-Piece Set is a quality set of knives that doesn't necessarily break the bank. It includes an 8″ Chef's knife, 8″ Serrated Bread Knife, 5″ Utility Knife, 4″ Paring Knife, Honing Steel, Kitchen Shears and Wooden Knife Block.
These knives have been my daily drivers for over 3 years and they have yet to skip a beat. I recommend them for beginner home cooks who don't want to worry about upgrading down the line and intermediate home cooks who have already outgrown or need to replace their current set.
The Wüsthof Classic line has long been a favourite of chef's and home cooks. They're made with quality steel and perform very well in the kitchen. They are lighter than the Zwilling Pro, have narrower handles and a thinner blade profile.
Personally, I don't like the thin spines, which cause my skin to blister after prolonged periods of use. I passed my set to my brother after switching to the Zwilling Pro line.
This 7-piece set comes in a bit more expensive at $349.00. It includes a wooden knife block in your colour and material of choice, an 8″ Chef's Knife, 8″ Serrated Bread Knife, 6″ Rocking Santoku, 5″ Serrated Utility Knife, 3.5″ Paring knife, and pair of kitchen shears.
Lacking, however, is a honing rod. Also, as mentioned above, you may not need the Rocking Santoku or Serrated Utility knife, since these bases are covered with the Chef's Knife and Bread Knife.
Nevertheless, these may feel more comfortable in your hands than the heavier Zwilling Pro lineup.
Expensive:
Miyabi Birchwood GS-2 7-Piece Knife Block Set
If money is no object, the Miyabi Birchwood Gs-2 7-Piece Set is the one for you. It includes an 8″ Chef's Knife, 7″ Santoku, 9″ Serrated Bread Knife, 3.5″ Paring Knife, pair of Stainless Steel Shears; 9″ Birchwood Honing Steel; and 12-Slot Bamboo Block.
The Miyabi Birchwood Gs-2 line is made with 5000MCD, Cryodur ice-hardened steel that scores an astounding 63 Rockwell Hardness. They also feature a steep 9.5-12 degree edge angle, allowing them to easily slice through just about anything.
Miyabi is owned by the Zwilling J. A. Henckels Group, but is manufactured in Japan to the highest standards. Miyabi knives are a great entry point into the world of Japanese knives for those who maybe don't have much knowledge about different, independent blacksmiths.
They are razor sharp, durable, easy to sharpen and absolutely beautiful.