With American Thanksgiving right around the corner, people across the country will be scrambling to roast, smoke and deep-fry giant turkeys – many for their first time.  If, however, you're not a big fan of turkey or just want something else for a change, then this Herb & Almond Crusted Beef Tenderloin is a great option. It's festive, delicious, and surprisingly easy to make. You'll also score some serious points from your guests when you carve this beautiful, roasted tenderloin table-side.
Oh, and it just so happens to be Paleo and Whole30 compliant for anyone trying to avoid the semi-annual, holiday food coma. Though I will admit that this goes exceptionally well with a nice glass of Côtes du Rhône 😉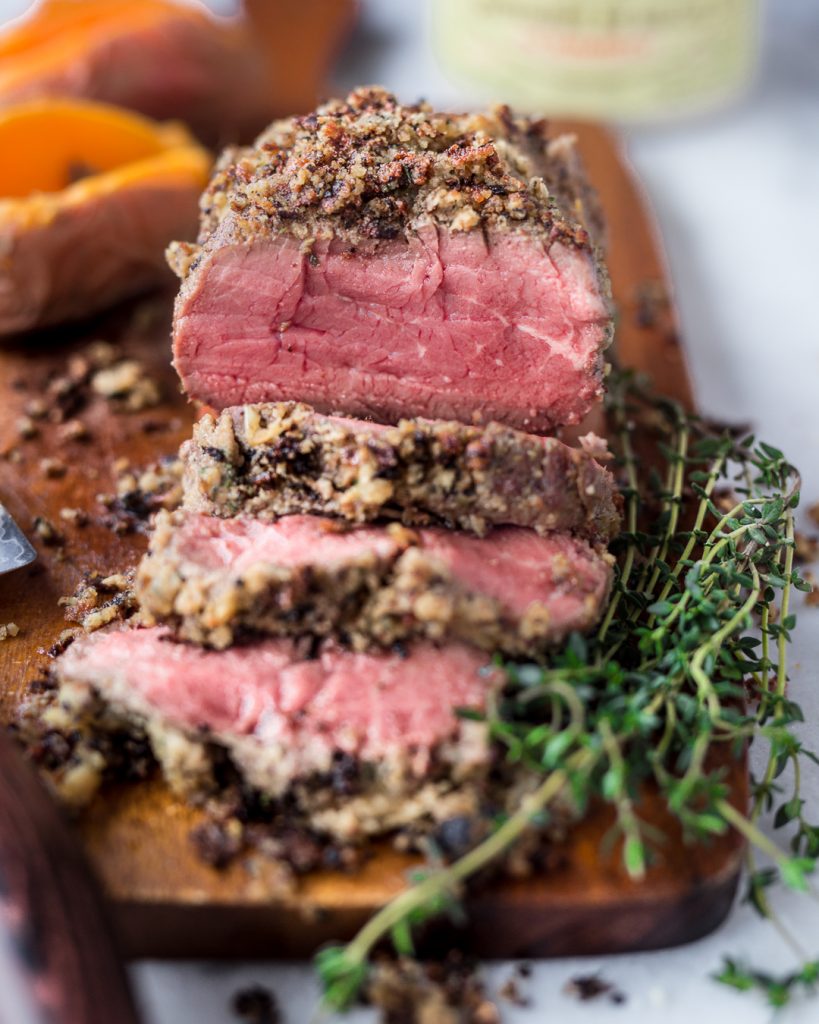 I should also mention here that the Mustard Rub and Herb & Almond Crust in this recipe can be used for other cuts of meat, such as a rack of lamb or prime rib. For these cuts, however, I recommend using the reverse-sear technique outlined in my recipe for this Bison Tomahawk. 
Or, try slathering individual lamb chops with the Mustard Rub and dusting them with the Herb & Almond crust before searing in a non-stick skillet with a splash of avocado oil over medium-high heat. I'm salivating just at the thought!
Tenderloin vs. Chateaubriand: Same Same But Different
For this recipe I used a 16oz Chateaubriand approximately 3.5″ thick. I know! Sounds fancy, right?
Chateaubriand simply refers to the thickest section of the Tenderloin. It's not always available pre-cut from your butcher so you may have to ask for it specifically.
If, for some reason, you can't get a hold of a Chateaubriand, then ask the butcher to select the thickest cut of tenderloin from the available selection. Try to get something as close to 3.5″ as possible. The thicker the cut, the better the chance of cooking the tenderloin to a perfect medium rare.
If you like your steak cooked well-done (*cringe*) I DO NOT recommend purchasing a tenderloin. Instead, try a sirloin tip. You'll save a lot of money and probably won't tell the difference once the meat is cooked past the point of medium-well anyways.

What You Need to Cook the Perfect Beef Tenderloin
Tenderloin is not a cheap cut of meat and, in my humble opinion, to overcook it is a culinary sin. The good news is that cooking steak perfectly is very, very easy. You just need the right tools for the job!
1. A Good Meat Thermometer:
A meat thermometer takes almost all of the guess work out of the cooking process.
Sure, with some practice you can tell when your ribeye is ready to come off the grill. But for larger roasts it is damn near impossible to know what the centre of the cut looks like without slicing into it. PLEASE DON'T DO THAT!
If you don't already have one, do yourself (and your family) a favour and purchase a meat thermometer. I recommend this Lavatools PT12 Javelin Digital Instant Read Meat Thermometer :
It's affordable, highly-accurate, and displays the temperature in under 4 seconds. It's also water resistant and comes with a lifetime warranty.
2. A Cast-Iron Skillet or Oven-Safe, Non-Stick Skillet:
For any thick-cut steak, such as the Chateaubriand used in this Herb & Almond Crusted Beef Tenderloin, you will want to either sear the meat on the stovetop before roasting or apply the reverse-sear method.In either case, you will minimize clean up and ensure maximum flavour by using an oven-safe skillet.
I always recommend this Lodge Cast-Iron Fry Pan. It's affordable, very practical, virtually indestructible, and, with regular maintenance, will last for generations:
Alternatively…
If you are intimidated by the maintenance required for cast-iron, you may want to consider an oven-safe non-stick skillet. I am a huge fan of Ballarini Cookware, particularly their lines with the Granitium Coating. Look for one that has a steel handle, like this Portofino model, so that you don't have to worry about it being oven-safe:
I have recommended these pans to everyone and anyone I know! These things can take a beating. I have been cooking with the same skillets for over a year now and they are as good as new. I assure you, I put these pans through their paces on a daily basis!
Herb & Almond Crusted Beef Tenderloin
INGREDIENTS: (serves 2)
16 oz Chateaubriand or thick-cut Beef Tenderloin (approximately 3.5″ thick)
1.5 tbsp Dijon Mustard (I like this version from Maille)
1/4 cup almond meal
1 tbsp loosely-packed fresh thyme leaves – finely chopped
2 cloves garlic – finely grated
1 tbsp avocado oil
kosher salt
freshly-cracked black pepper
 METHOD:
Place a dry, well-seasoned, cast-iron skillet in the oven and preheat to 400F.
Add mustard and grated garlic to a small mixing bowl – stir to combine.
Add almond meal and chopped thyme to a small mixing bowl – stir to combine.
Pat tenderloin dry with a paper towel and season all sides with a pinch of kosher salt and plenty of black pepper.
Rub the mustard mixture evenly over all sides of the meat.
Dust all sides of the meat with the herb and almond mixture.
Transfer the preheated cast-iron skillet in the oven to a stovetop burner set over medium-high heat – add avocado oil.
Sear the almond-crusted tenderloin on all sides – approximately 2 minutes per side.* Keep a close eye on your temperature at this point and adjust accordingly if the almond curst starts to burn.
Transfer the seared tenderloin to the preheated oven and roast 8-10 minutes at 400F, or until a meat thermometer reads 110F-115F in the thickest part of the meat for a rare centre. For a medium-rare centre, cook until the internal temperature reaches 120-125F.
Remove the tenderloin from the oven and transfer to a carving board. Let the tenderloin rest at least 10 minutes before carving – this will allow the meat to cook a bit further and the juices to redistribute throughout.
Serve alongside your favourite sides, such as these Garlic and Thyme Roast Fingerling Potatoes.
*Note: Don't worry too much if some of the almond crust falls off the tenderloin while searing. Simply scrape this off the pan and top the tenderloin with it before roasting in the oven.