Shakshuka is believed to have originated in Tunisia and can be loosely translated to "mixture" or "mishmash" in certain dialects. Essentially, shakshuka is a dish in which eggs are poached in a tomato sauce, which is commonly spicy. The type of sauce really depends upon who is making the dish and where they learned it.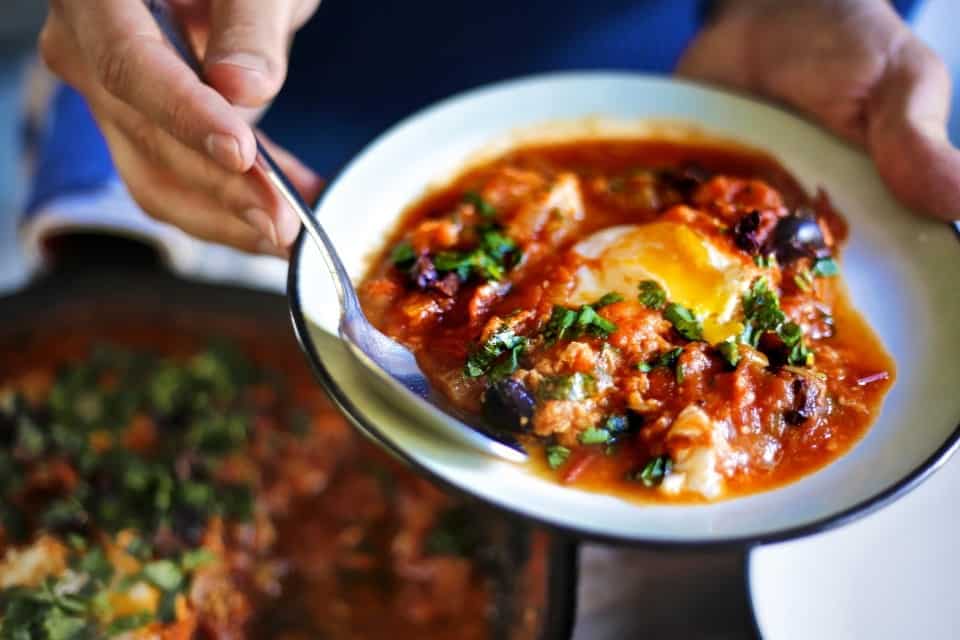 I first learned to make shakshuka from my mother. One day, I came home for lunch and there was a big pan of shakshuka resting on the stove. As usual, I didn't wait for the food to be brought to the table. I had to get a taste right away. As I gently removed the lid from her beloved Le Creuset braiser, a puff of steam rose to engulf my face, giving me a quick facial in the process. Once the steam dissipated, I peered down into a glorious pool of reds, yellows and greens. The eggs were delicately poached to a perfect softness. The tomato sauce was chunky yet juicy. It looked like it had been made with fresh tomatoes rather than tinned ones. Silky ribbons of tomato skin were scattered on the surface. Olives and cilantro garnished the pan and brought vibrancy to the entire dish. It looked like a Matisse painting! Its beauty struck me. My mouth watered.
I asked my mom what this concoction was called.
"Shakshuka," she said.
"Gesundheit," I replied.
"No, silly boy, that's what this is called. Shakshuka!" she corrected.
"Ohhh, I think I've heard of this before. Looks good! Let's eat!"
I pierced the yolk of the egg with my spoon and let it run overtop of the rich tomato sauce. I amassed as much as I could onto my spoon and barbarically shoved it into my mouth. The shakshuka was bursting with flavour! I tasted the acidity and juice of the tomato first. Then heavy notes of garlic and onion coated my mouth. All of it was rounded-off by the freshness and citrus of the cilantro and the brine and saltiness of the olives. Finally, a spicy note hit the back of my throat. It was triumphant! I was in love! I wanted more! I needed more! I gobbled down the entire plate and went in for seconds. Where has this Shakshuka been all my life?
I asked my mother how she made it. Her answer shocked me. It was so simple. Sauteed garlic, onion and fresh chilis, followed by fresh tomatoes, and, finally, eggs. I sat in disbelief, shoveling down my second round of shakshuka. How was it so juicy? How was it so flavourful? How was it so comforting? She forgot to mention the most important ingredient: love!
I started experimenting with the dish on more than one occasion. I cooked it nearly every weekend and sometimes during the week when I worked from home and had the ingredients on hand. It was especially good during the summer months when tomatoes were at the height of their season. It was even better towards the end of summer when the tomatoes were practically bursting at the seams with juice. During the winter, I used tinned tomatoes – crushed, whole and even passata. Each version brought something different to the table.
I also experimented with different ingredients in the sauce.
I made Shakshuka Merguez, with merguez sausages. This Southwest Shakshuka, with chipotle peppers and avocado. And even an Anti-Inflammatory Shakshuka with turmeric.
But I have to admit that when it comes to Shakshuka, I prefer to keep things simple and easy to highlight the two star ingredients: the tomatoes and the eggs. These are the foundations for a good shakshuka in my opinion.
I do like a little spice though, so I went to my local middle eastern grocer and purchased a small tin of Harissa (a magical Tunisian chili paste). I also wanted to add a secondary spice note to the dish so I added my absolute favourite thing in the entire world, smoked Spanish paprika.
Easy Shakshuka - Whole30, Paleo
Shakshuka can be loosely translated to "mixture" or "mishmash" in certain dialects. In this recipe, eggs are poached in a spicy and vibrant tomato sauce.
Course:
Breakfast, Brunch, Lunch
Cuisine:
Mediterranean, Middle Eastern
Keyword:
easy shakshuka, eggs in purgatory, paleo shakshuka, shakshuka, whole30 shakshuka
Ingredients
3

tablespoons

Extra virgin olive oil

1

medium

onion

diced

3-5

cloves

fresh garlic

roughly chopped

Kosher salt and freshly-cracked pepper

to taste

5

large

ripe tomatoes

chopped into 1" chunks

1

teaspoon

smoked Spanish paprika

1 1/4

teaspoon

Harissa paste

8

large eggs

1/4

cup

finely chopped fresh cilantro

roughly chopped (can substitute parsley, mint, basil or tarragon)

8-10

kalamata olives

roughly chopped and pitted, for garnsih
Instructions
Preheat a large frying pan over medium-high heat. Add olive oil and heat until shimmering. Add onions and garlic, season with a pinch of salt and cook, stirring, until soft and translucent, 10 to 12 minutes. Add smoked paprika and cook, stirring to coat, for 1 minute.

Add tomatoes and season with another pinch of salt and freshly cracked black pepper. Lower the heat to medium-low, cover with a lid, and cook, stirring often, until tomatoes are soft yet chunky, around 15 minutes. Add harissa paste and stir through to combine.

One at a time, use a spoon or spatula to create a small hole in the sauce and crack each egg into the hole you've created. This will help the egg to cook in the sauce, rather than on top of it. Repeat until all eggs are in the pan.

Cover the pan with a lid and cook until the whites are firm, but the yolks are still runny, approximately 6 minutes. Depending on personal preference, cook the eggs more or less.

Garnish the shakshuka with cilantro and olives and serve immediately.