BLT Egg Salad Sammie anyone?
"Bread, I miss it! I can't live without it! I can't give it up! It's my favourite food! It's my spirit animal!"
I hear it all the time! I, too, love bread! Oh, so very much! You are not alone, my friend! It is the food of the world. Every single country, city, town, has its own version. All beautiful, all unique, yet all united. Bread is a metaphor for the people that make it. It is as ancient as civilization itself.
Yet bread, at least the way we know it today, has become a reflection of a broken food system. It has been bastardized and robbed of its ancestral properties and characteristics. Enriched loaves of pillowy white sponges, neatly packaged in cellophane, have become the norm. Kids grow up thinking bread should come in a bag, never stopping to consider the industrial factory it was made in. At least, that's what I always thought.
It's only when you decide to cut back on something that you realize just how much you love and crave it. Perhaps even scarier, your eyes open to just how prevalent it is in the food landscape. Bread and its various permutations (pastries, crackers, etc) are everywhere. Looking for a quick, on-the-go meal? Chances are you're staring at a sandwich or, at the very least, something made with wheat or grains. Go on a road trip and pay attention to your options along the way.
I get it. It's cheap, has a long self life, it's familiar, it's portable, the list goes on.
Surely, there's a way for those who cannot (or choose not to – whole30 purposes or otherwise) eat bread to still reap the benefits of a quick-and-easy breakfast or lunch. Even better if it's something that can be prepared ahead of time in case life forces you to grab and go.
Enter: BLT Egg Salad Sammies.
There's nothing fancy about it but these BLT Egg Salad Sammies deliver everyday and twice on Sunday! They're tasty, easy to make, last for a couple of days in the fridge, can be eaten for breakfast or packed for a work lunch. If taking them with you, keep the lettuce stored separately so it stays nice and crunchy.
You can enjoy them open-faced or top each sammie with an extra leaf of lettuce for a more controlled experience. Either way, you'll be calling Romaine lettuce the baguette of the salad world in no time!
And maybe, just maybe, these BLT Egg Salad Sammies will help you realize that although bread is delicious, moderation isn't so hard after all!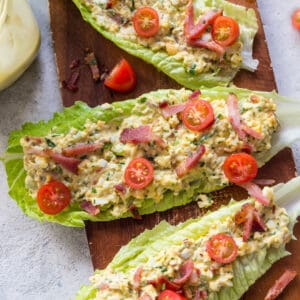 BLT Egg Salad Sammies - Whole30, Paleo
These BLT Egg Salad Sammies make for a quick and easy breakfast. Prepare the egg salad ahead of time so that you can put everything together in a few minutes.
Ingredients
6

large eggs

preferably free-range, organic

3

rashers sugar-free bacon

cooked until crispy and finely chopped - some reserved for garnish (in the Toronto area: check WholeFoods, Ambrosia, Organic Garage)

1

celery stalk

finely chopped

1/4

cup

red onion

finely chopped

1/4

cup

fresh parsley leaves

finely chopped

1/3

cup

or more compliant mayo

kosher salt and freshly-cracked black pepper to taste

cherry tomatoes sliced in half

for garnish

1

heart romaine lettuce

for serving
Instructions
Bring a large pot of water to a boil. Use a slotted spoon to gently submerge eggs. Boil exactly 11minutes. Transfer eggs to ice bath for 3-4 minutes to stop cooking. Peel eggs under water to help release from shell.

Add eggs to a mixing bowl and smash with a fork (you can also chop with a knife or use a cheese grater - watch your knuckles).

Add cooked bacon, celery, onion, parsley, mayo. Stir to combine. Taste and adjust salt and pepper as required.

Spoon egg salad onto romaine, top with reserved bacon bits and tomato.

Serve to unsuspecting guests that you have invited over for BLT's. Watch as their jaws drop