If you're anything like me, you often find yourself in possession of some leftover roasted chicken. I'm talking at least once a week and specifically the white meat. It's a good problem to have, don't get me wrong. In fact, I'd be lying if I said that I don't purposefully set some chicken breast aside so that I can craft a delicious Chicken Cobb Salad the following day.
OK, fine, sometimes it takes me a couple of days before I get around to the salad but that's only because I like daily variety.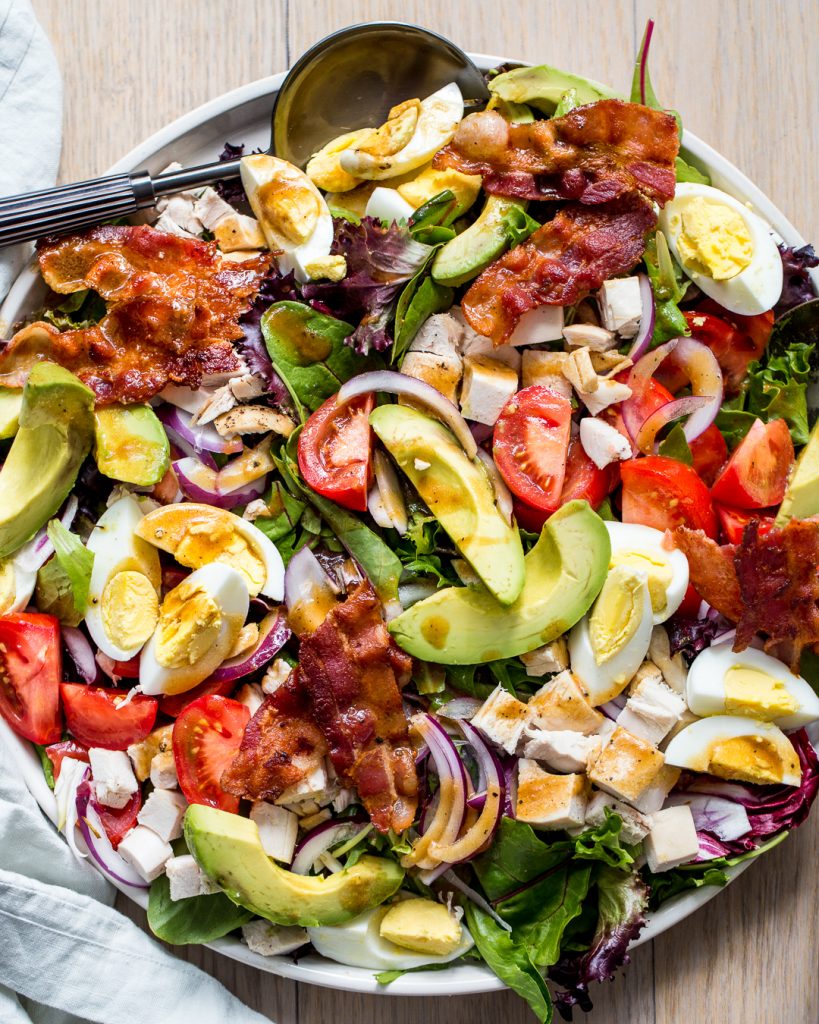 The point is, this Chicken Cobb Salad is as much a staple in my household as my Emergency Roast Chicken. If you haven't tried it, it's great if you're in a pinch and need to get an easy and delicious meal on the table.
If, however, you don't have any leftover chicken but still have a hankering for a tasty Cobb Salad situation, feel free to substitute a lean protein of choice. Ideas include, but are not limited to, freshly-grilled chicken (not leftover), grilled steak, grilled shrimp, grilled salmon, roast salmon, etc.
On that same note, I would also open the door to a variety of other salad toppings. If you want to add some grated carrots, go crazy! Cucumbers overloading your crisper drawer? Chop 'em up and throw 'em in! In the mood for blue cheese? Heck, I'm not gonna stop you!
This, of course, brings up a very, very serious question: "what makes a Cobb Salad a Cobb Salad? Is it the ingredients? For instance, does a Cobb Salad have to include blue cheese? What about corn? Avocado? Bacon? BACON??? Do all the ingredients need to be diced? Arranged into separate sections on the plate?
I'm not sure I will ever have the answer but I can tell you one thing, I love all shapes and sizes of this delicious salad and now that the weather is warming up I find myself craving them more and more!
Chicken Cobb Salad
In possession of leftover chicken? Try tossing together a quick-and-easy Chicken Cobb Salad. And don't forget the bacon, because it's delicious.
Ingredients
Mixed greens

2

leftover cooked chicken breasts – roasted

rotisserie, poached, etc.

3-4

vine-ripened tomatoes – cut into quarters or eighths

½

red onion – thinly sliced

1

avocado – cut into wedges

4

hard-boiled eggs

- peeled and cut into quarters

4

strips bacon
For the Balsamic vinaigrette:
¼

cup

Extra Virgin olive oil

2

tbsp

balsamic vinegar

1

tsp

honey

1

tsp

Dijon mustard

1

clove

garlic – finely grated

1/8

tsp

kosher salt

1/8

tsp

freshly-cracked black pepper
Instructions
Add all vinaigrette ingredients in a small mixing bowl and whisk until emulsified.

Place bacon on a cold non-stick frying pan, set over med-high heat and cook until crispy (flip once). Transfer cooked bacon to a plate lined with paper towel to absorb excess grease.

Arrange greens, tomatoes, onion, avocado, eggs and bacon on a large serving platter. Dress with vinaigrette and serve.
Notes
To take some of the edge off the onions, try rinsing them under some cold water.