Super tender, juicy and loaded with flavour, these Sichuan Chili Crisp Glazed Yakitori are a must-try at your next cookout! Marinated chicken gets skewered and grilled to perfection with green onion before being finished with a sweet, savoury and spicy glaze. The yakitori make for an amazing appetizer or can be served with some grilled vegetables, a side of rice or a fresh garden salad.
What You Need for Chili Crisp Glazed Yakitori
Chicken: I like boneless, skinless chicken thighs for these yakitori, The meat is tender, flavourful, and more forgiving to cook than breast. Feel free to substitute other cuts of chicken if desired. Chicken breast, chicken wings or even chicken hearts are all popular options. Larger pieces, like drumsticks, will obviously require longer cooking times and won't be as well suited for skewers.

The marinade and glaze also go great with beef, pork, and a variety of vegetables, such as shishito peppers, mushrooms, zucchini, eggplant, or bok choy.
Sichuan Chili Crisp: It may not be traditional, but adding some Sichuan Chili Crisp to the marinade and glaze brings an incredible complexity of flavour to the yakitori. My absolute favourite ones are from Fly By Jing. They make a regular and Xtra Spicy Sichuan Chili Crisp, as well as other products like their Zhong Sauce. You can't go wrong with any of them.

You can find Fly By Jing products in various local shops or

buy it online and use code PRIMAL15 for 15% OFF your order

.
Coconut Aminos: This naturally gluten-free soy sauce alternative is the perfect base for a yakitori marinade and glaze. It's less salty than soy sauce, has a subtle sweetness and reduces down to a thick syrup thanks to the natural sugars.
Rice Vinegar: To balance the sweetness from the coconut aminos and honey and to help tenderize the chicken, try adding a couple tablespoons of rice vinegar. It has a mild tang that won't overpower the other ingredients.
Toasted Sesame Oil: This stuff can pack a seriously strong flavour punch so be careful not to over do it. Add a little bit at a time and taste the sauce to see if it needs adjusting.
Honey: Adding some honey to the marinade will help balance out some of the spice in the chili crisp. It will also help the glaze to reduce down to a syrupy consistency. You can, however, omit the honey if you want to lower the natural sugar content.
Avocado Oil: I like to add a bit of avocado oil to the marinade because it will help prevent the chicken from sticking to the grill. It has a neutral flavour and high-smoke point, making it great for grilled recipes. It also adds a nice sheen to the glaze as it reduces.
Garlic: For best results, finely grate the garlic with a microplane rasp-style grater. This way it will get completely incorporated into the marinade and glaze. Larger pieces of garlic will have more chance of burning and turning bitter on the grill.
Green Onion: Skewering the chicken alongside some green onion makes or a delicious combination. It also makes for a very nice presentation. If you choose to use other vegetables, keep in mind that the cooking time should be the same as the chicken. The last thing you want is to bite into a perfectly cooked piece of chicken and raw piece of bell pepper.
Shishito Peppers: Cook these separately and double skewer them for better support. They need only a few minutes per side and make for a super easy side dish to go along with your chili crisp glazed yakitori. If you've never had shishito peppers, they're kind of like the Russian Roulette of the pepper world. Around 1 in 10 are spicy, the rest are mild, and you have no way of knowing until you bite into one.
Make the Most of Your Chili Crisp…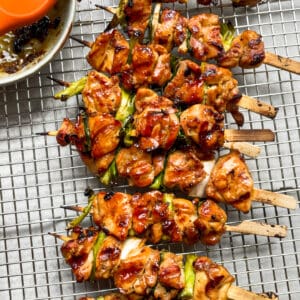 Sichuan Chili Crisp Glazed Yakitori (Grilled Chicken Skewers)
Super tender, juicy and loaded with flavour, these Sichuan Chili Crisp Glazed Yakitori are a must-try at your next cookout!
Ingredients
½

cup

coconut aminos

2

tablespoons

Fly By Jing Xtra Spicy Sichuan Chili Crisp

plus more to taste

2

tablespoons

rice vinegar

2

tablespoons

toasted sesame oil

2

tablespoons

honey

2

tablespoons

avocado oil

1

clove

garlic

finely grated

¼

teaspoon

kosher salt

1/8

teaspoon

freshly-cracked black pepper

2

pounds

boneless

skinless chicken thighs, cut into 1-inch pieces

1

bunch green onion

sliced into 1" pieces

8

ounces

shishito peppers
Instructions
In a bowl, combine the coconut aminos, Sichuan Chili Crisp, vinegar, sesame oil, honey, avocado oil, garlic, salt and pepper. Whisk to combine, taste for seasoning and adjust with chili crisp or honey as desired.

Add the chicken to a large bowl and pour in half of the marinade, reserving the other half. Toss the chicken to coat, cover and refrigerate 1 to 4 hours.

Pour the reserved marinade into a small sauce pan and place over a medium heat. Bring the sauce to a gentle simmer and cook, stirring regularly, until it is syrupy and has reduced in volume by ½, around 7 minutes. Note that it will continue to thicken as it cools. If the glaze becomes too thick, add water one tablespoon at a time until you reach the desired consistency. Transfer the glaze to a bowl and let cool.

Preheat your grill to 475F. If using bamboo skewers, soak them in a bowl of water for 1 hour prior to cooking.

In alternating order, thread the chicken and green onions onto the skewers. Skewer the shishito peppers separately. Transfer the skewers to the grill and cook, undisturbed, until golden brown and light grill marks form, around 4 minutes for the chicken and 3 minutes for the peppers. Flip the skewers and baste the cooked sides with the chili crisp glaze. Once the bottom sides of the skewers are golden brown, flip and glaze the other side. Continue to flip and glaze the skewers until the thickest parts of the chicken register at least 165F, around 15 minutes total for the chicken and 6 minutes total for the peppers. Transfer the skewers to a serving platter and brush once more with the Sichuan Chili Crisp glaze.