Hearty, delicious and loaded with flavour, this Whole30 Cottage Pie recipe is the ultimate healthy comfort food. Ground beef and vegetables simmer in a rich, savoury and aromatic gravy before being topped with fluffy mashed potatoes and baked to golden brown perfection. Unlike classic versions of the dish, this Cottage Pie is Whole30, dairy-free and gluten-free.
What Is Cottage Pie?
Cottage pie is a classic dish originating in the United Kingdom that consists of a savoury meat filling, typically made with ground or minced beef, mixed with vegetables and simmered in a rich gravy. The filling is then topped with mashed potatoes and baked until the top is golden and slightly crispy. It's a hearty and comforting dish that's perfect for warming you up on a cold day.
The name "Cottage Pie" has been used since the 18th century and remains a practical and economical way to use up leftover meat and vegetables, turning them into a delicious and satisfying meal. The term "cottage" in the name refers to the type of household traditionally associated with the working class in rural areas.
The meat and vegetable filling in Cottage Pie is usually seasoned with various herbs and spices and is cooked in a flavourful gravy made from ingredients like beef broth, Worcestershire sauce, and tomato paste. The mashed potato topping is creamy and adds a comforting contrast to the rich and savoury filling. Once assembled, the dish is baked until the top layer of mashed potatoes becomes golden and slightly crispy.
What is the Difference Between Cottage Pie and Shepherd's Pie?
Cottage Pie and Shepherd's Pie are nearly identical to one another. The key difference between the two is the type of meat used: Cottage Pie uses beef, while Shepherd's Pie uses lamb. Either way, it's an easy, comforting, and affordable recipe that makes use of simple ingredients and can feed a crowd.
What You Need for Cottage Pie
Ground Beef: I personally like to use a lean ground beef, which is usually 17% fat, because it has a rich flavour and nice texture.
Vegetables: A combination of celery, carrots, onion and garlic form the aromatic base for the meat filling. For extra texture and flavour, I like to also sauté some mushrooms and add a cup of frozen peas to the filling at the very end.
Tomato Paste: Adding a couple tablespoons of tomato paste will add depth of flavour and colour to the gravy.
Onion Powder: Adding a spoon of onion powder will also add some flavour to the filling.
Arrowroot Starch: Instead of thickening the gravy with the more traditional wheat flour, I use a teaspoon of

arrowroot starch

, which is naturally grain- and gluten-free.
Broth: I like to use

chicken broth

for the mashed potatoes and

beef bone broth

for the Cottage Pie filling. You can also make things more simple by using just chicken broth or just beef bone broth.
Potatoes: I like to make the mash with yellow-fleshed potatoes because they tend to have more flavour and creamier texture than Russets.
Tips and Tricks!
For maximum flavour, I recommend browning the beef before sautéing the aromatics. This step will help develop a crust on the meat and develop a fond (flavourful base) in the pan that will add much more flavour to the gravy and filling.
**Pro Tip: Form the ground beef into ball shapes first before browning. This helps brown the meat for several reasons:
It allows for steam to escape the pan, resulting in a more even browning.
It prevents the pan from cooling down too quickly, which can otherwise cause the meat to steam.
It allows you to brown more meat at once without having to do it in batches.
It makes the meat easier to flip and brown on the other side.
It makes it easier to transfer the browned meat to a bowl so that you can individually sauté the aromatics and develop more flavour.
After the meat has browned, you can use a potato masher or wooden spoon to easily crumble it in a bowl before returning it to the pot.
Make It On the Traeger
If you really want to take your Cottage Pie to the next level, try finishing it on your Traeger Grill. It develops an irresistible wood-fired flavour and aroma that you just can't replicate in the oven. In fact, I prepared this entire dish outside on the new Timberline series, which comes equipped with the first ever outdoor-rated induction burner.
Can You Make Cottage Pie Ahead of Time?
You can absolutely prepare this Cottage Pie ahead of time. If you want to freeze it, I recommend assembling all the ingredients and then baking it when you're ready to serve.
If you want to prepare it for easy meals through the week, bake the pie and keep it refrigerated. When ready to serve, reheat it in an oven or toaster oven with a splash of chicken or beef broth a the bottom to prevent the filling from drying out.
Can I Use Frozen Vegetables?
Make your life easier and cut down on some prep time by using frozen carrots. You can buy them separately or get a bag of mixed peas and carrots.
Variations and Serving Suggestions
There are countless ways to personalize and adapt this Cottage Pie recipe to suit your personal preferences and needs.
Ground Meat: You can make this dish with ground lamb, pork, turkey, chicken, bison or even your favourite game meat. Each type of protein will add a different taste and texture to the finished dish.
Filling Ingredients: Every household puts their own little twist on Cottage Pie and Shepherd's Pie and so should you. I almost always add mushrooms to my filling. Sometimes I sneak in some zucchini for an extra serving of vegetables. Other times I won't include any peas. Feel free to get creative and make use of what you love and have on hand.
Vegetarian or Vegan Cottage Pie: For a meatless option, you can substitute the ground beef with different kinds of mushrooms, zucchini or eggplant. If you want to keep it completely vegan, use vegetable broth for the mashed potatoes.
Luxurious Mashed Potatoes: This recipe calls for a very easy and delicious dairy-free mashed potatoes, but if you're in the mood for something a little more indulgent, you can try topping the Cottage Pie with my luxuriously

Creamy Mashed Potatoes

. You can also add some grated cheddar cheese to the potatoes for even more flavour.
Herb Variations: One of the best ways to add flavour to your cottage pie is to experiment with different fresh herbs and spices. In this recipe I kept things very simple, but I often add chopped thyme, rosemary and some smoked paprika for extra oomph!
Side Dishes: Cottage Pie is hearty and flavourful enough to be enjoyed on its own but also goes great with a side of green beans, roasted vegetables, or a garden salad to complete the meal. I also love it with a spoonful of

homemade gravy

overtop.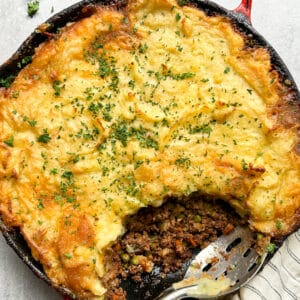 Easy and Delicious Cottage Pie – Whole30
Hearty, delicious and loaded with flavour, this Whole30 Cottage Pie recipe is the ultimate healthy comfort food.
Ingredients
2

pounds

yellow-fleshed potatoes

peeled and cubed

Kosher salt

2/3

cup

chicken broth

plus more to taste

Extra-virgin olive oil

2

pounds

80/20 or lean ground beef

2

medium carrots

peeled and diced

1

celery stalk

diced

1

medium yellow onion

diced

8

ounces

cremini mushrooms

roughly chopped or quartered

4

cloves

garlic

finely chopped

1

teaspoon

arrowroot starch

2

tablespoons

tomato paste

1

tablespoon

onion powder

17

ounces

beef bone broth

substitute beef broth

1

cup

frozen peas

Freshly-cracked black pepper

1

tablespoon

finely chopped fresh parsley

for garnish
Instructions
Add the potatoes to a medium sauce pan and cover with water. Add 1 teaspoon salt, partially cover with a lid and set over high heat. Bring the water to a boil and cook, until the potatoes are fork-tender. Drain the water and add the chicken broth, 2 tablespoons olive oil and ½ teaspoon salt. Mash the potatoes with a potato masher until smooth and combined. If the potatoes are dry, add more chicken broth and olive oil as needed. Taste for seasoning and adjust with salt as desired. Cover and set aside in a warm place.

Preheat Traeger Grill to 450F or oven to 400F.

Heat a 12" oven-safe pan over medium-high heat. Add 2 tablespoons olive oil and heat until shimmering. Pat the ground beef dry with paper towel and form into large meatballs. Add the ground beef to the pan and cook until browned, around 5 minutes. Flip and brown the bottom sides, around 4 minutes. Reserve 2 tablespoons of rendered fat in the pan and transfer the browned beef to a bowl. Crumble the beef into small pieces with a potato masher or wooden spoon. Set aside in a warm place.

Lower the heat to medium. Add the carrot, celery and onion and season with a pinch of salt. Cook, stirring regularly, until the onion is soft and translucent, around 5 minutes. Add the mushrooms and cook, stirring regularly, until they have softened, around 7 minutes. Add the garlic and cook, stirring, until fragrant, around 60 seconds.

Add the arrowroot starch and onion powder and cook, stirring, 60 seconds. Add the tomato paste and cook, stirring to incorporate, 60 seconds. Add the beef broth and cook, lifting any brown bits off the bottom of the pan, until the liquid starts to simmer. Return the browned beef to the pan, add the frozen peas, season with black pepper to taste and cook, stirring occasionally, until the liquid has reduced by half, around 12 minutes. Taste the filling for seasoning and adjust with salt and pepper as desired.

Remove the pan from the heat, spoon the mashed potatoes overtop, spread evenly with a spoon and drizzle the top with 2 tablespoons olive oil. Transfer the Cottage Pie to the Traeger Grill or place onto a rimmed baking sheet and transfer to the oven. Bake until the mashed potatoes are golden and slightly crispy, 35 to 40 minutes. Remove from heat, garnish with chopped parsley and let cool 15 minutes before serving.