Quick, easy and delicious, this German-inspired Warm Potato Salad with Asparagus will be a hit at your next cookout. It's best enjoyed warm, but can also be served at room temperature or even cold. It's also a great potato salad to bring with you to a potluck or picnic because it doesn't need to be refrigerated.
What You Need for Warm Potato Salad
Potatoes: I like using baby or creamer potatoes in this recipe. They cook quickly, have a soft skin that doesn't need to be peeled, and only need to be cut once or twice to get bite-sized pieces.You can substitute other varieties, but they will likely take longer to cook and require more chopping before adding them to the vinaigrette.
Asparagus: For an extra pop of colour, texture and nutrition, I love adding asparagus. It takes only a couple minutes to blanch and you can cook them in the same pot as the potatoes.If you don't have asparagus, or simply don't enjoy it, try substituting broccoli florets, green beans or peas.
Red Onion: Onion adds a bit of bite and crunch that balances the softness of the potatoes. I like to thinly slice it so that it makes for a nicer presentation.
Whole-Grain Mustard: If you can find a good quality whole-grain mustard, now is the time to use it. Look for one that is free of sulfites, sugar and alcohol if you are doing a round of Whole30. My absolute favourite is Moutarde de Meaux Pommery. It's pricey, but worth it.
Honey: If you are not doing a round of Whole30 and want to balance the tang from the vinegar and mustard, try adding a drizzle of honey to the vinaigrette. Personally, I prefer this warm potato salad without the sweetness.
Good Vinegar: Grab a bottle of sherry vinegar the next time you're at the market. It will take this dish to another level.
Garlic: 3 cloves is just the recommendation. I expect you to measure the amount of garlic with your heart. And keep in mind that the heat from the potatoes will mellow out the sharpness from the garlic.
Is this Potato Salad Whole30?
As long as you omit the honey from the vinaigrette, this warm potato salad is Whole30 compliant and makes for a nutritious and filling side dish.
Potato Substitutions
If you are avoiding potatoes, you can substitute cauliflower florets or Japanese yams in this recipe. As opposed to the orange-fleshed sweet potatoes you may be familiar with, Japanese yams are white-fleshed with a purplish skin. They have a lower glycemic index than regular potatoes, are delicious and much less sweet than their orange cousins. Boil them whole to lock in the nutrients during the cooking process and peel them after. Proceed to cut them into cubes and add them to the salad along with the rest of the ingredients.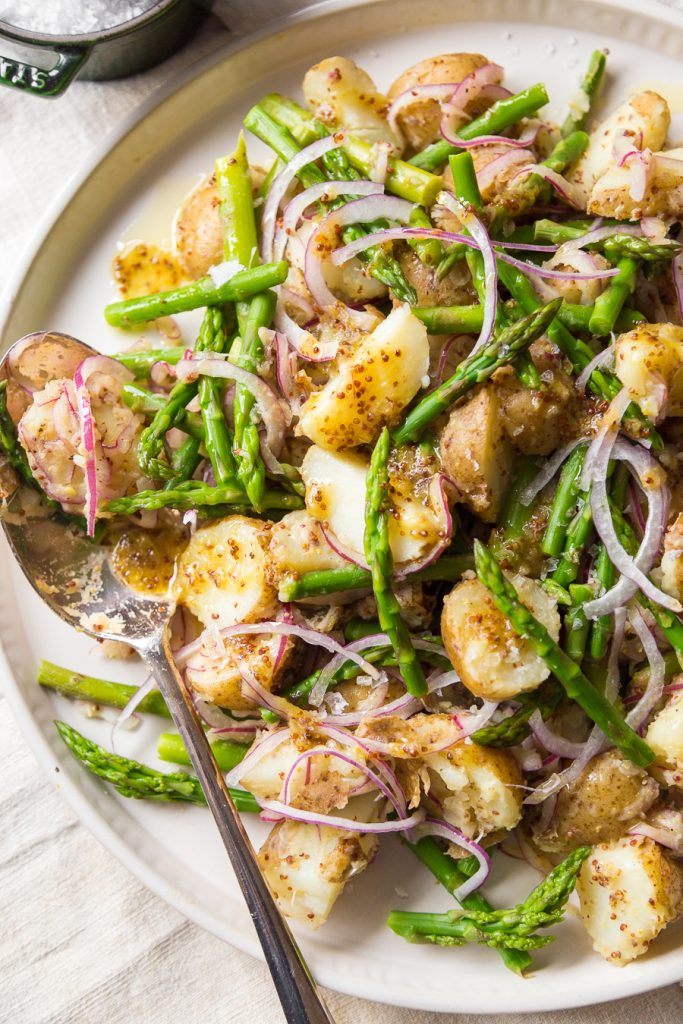 German-Inspired Warm Potato Salad with Asparagus
This German-inspired Warm Potato Salad with Asparagus is a quick, easy, and delicious side dish for your next cookout.
Ingredients
2.5

pounds

baby potatoes

1

pound

asparagus stalks

cut into thirds and bottoms trimmed

3

cloves

garlic

finely chopped

3

tablespoons

extra virgin olive oil

1.5

tablespoons

Whole30 compliant whole-grain mustard

substitute stone-ground or Dijon mustard

1

tablespoon

sherry wine vinegar

or substitute high-quality white wine vinegar

1

tablespoon

all-natural honey

optional (omit for Whole30)

kosher salt and freshly cracked black pepper

to taste

1/2

red onion

thinly sliced

1

tablespoon

finely chopped fresh parsley
Instructions
Add the potatoes to a large stock pot. Cover with water, add a pinch of salt and place over high heat. Bring to a boil, lower to medium-high heat and cook the potatoes until barely fork-tender, around 18 minutes. Add the asparagus and cook until slightly tender, around 2 minutes.

Meanwhile, in a large mixing bowl, combine the garlic, olive oil, mustard, vinegar, and honey (if using). Season with salt and pepper to taste and whisk to combine.

Drain the hot potatoes and cut them in half or bite-sized pieces. Add them to the vinaigrette along with the asparagus and onions. Gently toss to coat, taste for seasoning and adjust with salt and pepper as desired.

Transfer to a serving platter, garnish with chopped parsley and serve warm or at room temperature.
Notes
This German Warm Potato and Asparagus Salad is best served warm. However, it can be prepared ahead of time and served at room temperature as well. You can also reheat it slightly in the oven before guests arrive. It can also be eaten cold the next day, making it a great option for a picnic!