Everyone should have a few key salads in their arsenal. This Whole30 Grilled Chicken Greek Salad with Coconut Tzaziki is definitely one of them. Aside from being delicious, Greek salads are quick, easy and go great with just about any protein. Seriously! Scroll back a few recipes and you'll spot my Greek-Marinated Salmon served overtop of a fairly basic Greek salad. This time around I used good ol' chicken breast. Not exactly the most inspiring choice of meat but in the world of convenience it ranks very high. The other thing you'll notice is that I use the exact same salmon marinade for the grilled chicken in this recipe. When it comes to sustaining long-term healthy choices, trust me when I say that you are better off making your life simple. Having a salad template and versatile marinade will definitely help in that department.
Whole30 Grilled Chicken Greek Salad with Coconut Tzaziki
As mentioned, the Greek-inspired marinade used for the chicken works on just about everything. It goes great with lamb, chicken, beef, shrimp, scallops and everything in between. Because chicken breast is fairly delicate it doesn't need much time to soak up the flavours from the marinade. I'm talking thirty minutes to an hour in the fridge and you're ready to go! I also like to use this Greek Salad for times when I meal prep. There's no lettuce, which means you won't have wilted greens throughout the week. Simply package the tzaziki dressing in a small separate container or zip-top bag and you're all set!
Speaking of, instead of a vinaigrette for the salad, I decided to kick things up a notch (yes, another Emeril reference!) with some Coconut Milk Tzaziki. It's paleo, whole 30 compliant and very easy to make. It's also a great break from the typical oil-based dressing. Like the Greek Marinade, this Tzaziki goes great with a variety of grilled meats. See, for example, this Spit-Roasted Lamb I made last year 😉
To make the paleo Tzaziki, I simply replace the standard yogurt called for in regular tzaziki recipes with full-fat coconut cream. If you can't find coconut cream at the store, simply place an unshaken can or carton in the fridge over night and scrape off the solidified cream at the top. Voilà! There is a slight coconut flavour but it tends to get masked by the garlic, herbs and lemon juice in the sauce. If you're on the fence with the whole situation, I suggest making a half-serving. Otherwise, go for gold and double up!
I hope you like this recipe and be sure to let me know what you think in the comments below!
Cheers,
Ronny
a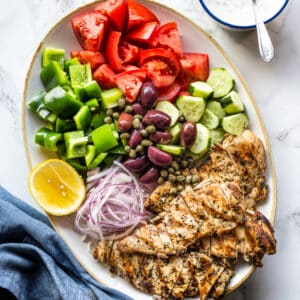 Grilled Chicken Greek Salad with Coconut Tzaziki - Whole30/Paleo
This Grilled Chicken Greek Salad with Coconut Tzaziki is easy, delicious and perfect for a midweek dinner! It's also Whole30 and Paleo compliant!
Ingredients
for the Grilled Chicken:
1

lb

chicken breast or thigh

sliced into 1" filets

1

tsp

dried thyme

1

tsp

dried mint

1

tsp

dried basil

2-3

garlic cloves

finely chopped

1

tbsp

lemon juice

1

tbsp

Extra Virgin Olive Oil

EVOO

salt and pepper
for the Greek Salad:
1

large field tomato

roughly chopped

1/2

english cucumber –

cubed

1/4

red onion –

thinly sliced

1

green pepper –

cubed

kalamata olives

approx 3-4 per person

1

tbsp

caper berries

1-2

tbsp

EVOO and fresh lemon juice
for the Coconut Tzaziki (optional)
1

cup

coconut cream

1

garlic clove –

finely grated

Juice and zest of 1/2 lemon

1

small cucumber

deseeded and finely chopped

1

tsp

fresh oregano

finely chopped

1

tsp

dried mint

1

tsp

dried basil

1

tbsp

fresh parsley or dill

finely chopped

salt and pepper to taste
For Greek Salad Dressing (optional)
3

tbsp

extra virgin olive oil

2

tbsp

fresh lemon juice

1

tsp

fresh thyme or oregano leaves

finely chopped

kosher salt and pepper to taste
Instructions
For Coconut Tzaziki
To make coconut cream, place a can or carton of unshaken full-fat coconut milk in the fridge and let sit overnight. **It is important that you do not shake the contents of the can or carton or the cream may not separate!

Scrape off one cup of coconut cream that has separated and solidified above the coconut water below.

Add the coconut milk along with the rest of the ingredients to a medium sized mixing bowl and stirring to combine. Taste for seasoning and adjust salt and pepper as required. Cover and refrigerate while you prepare the chicken and salad.
for Grilled Chicken:
Add thyme, mint, basil, EVOO, lemon juice, and garlic to a bowl and stir to combine – set aside.

Rinse and pat chicken dry with paper towel. Slice lengthwise into thin filets. Season both sides of the filets with salt and pepper and transfer to a zip-top bag. Pour in the marinade and gently massage the chicken to coat. Lay the chicken flat in the bag, fold over the top half, squeeze out all of the air and seal. Transfer to fridge and let marinade 30min to one hour.

Preheat a grill-pan or grill over medium-high heat. If necessary add a small drizzle of oil to the pan to prevent sticking. Cook approximately 5-6 minutes per side or until fully cooked (approximately 10-12 minutes total).

Meanwhile, cut the vegetables and arrange on a platter along with the olives and capers.

Transfer cooked chicken to a cutting board and slice. Add to the salad platter and serve with Coconut Tzaziki.
for Greek Salad Dressing
Add all ingredients to a medium-sized mixing bowl and whisk to combine.
Notes
Feel free to serve the salad with the coconut tzaziki and/or the Greek dressing.