Grilled Chicken Niçoise Salad is one of my all-time favourite make-ahead meals. Not only is it super easy to prepare all of the ingredients, but it's one of the few cases in which things actually taste great when served cold the next day. I'd like to think that this Niçoise salad is both adult and kid friendly and with back-to-school just around the corner it will be a great addition to your weekly lunch-time arsenal.
Originally created in the city of Nice, along the southern coast of France, Salade Niçoise is a fresh, crisp and bright salad that is light yet filling. The best news? It's Whole30 compliant, making it perfect for those who are tackling the upcoming September Whole30!
There are a variety of preparations and, as with most things classic and delicious, everyone has their opinion when it comes to what should and shouldn't be included in a Niçoise salad. In my experience, the most popular versions of the salad are made with tuna (canned or freshly cooked), green beans (usually blanched), chopped tomatoes, hard-boiled eggs, sliced radish, black olives, tender, leafy greens, and boiled creamer potatoes. Sometimes, the tuna is replaced with anchovies for a briny punch of flavour. I've loved tuna for as long as I can remember, but I know that canned fish can be a tough sell for some kiddos (and adults). Especially if you're already trying to get them to eat a salad!
Here, I replace the fish with grilled chicken breast simply seasoned in some salt, pepper, dehydrated onion and chili flakes for a touch of spice. I also grill the green beans, getting a bit of char on them for added flavour, and season them in some Everything But the Bagel Seasoning from Trader Joes. If you don't have the spice blend, it's a combination of poppy seeds, white and black sesame seeds, dehydrated garlic and onion, and salt. To add even more flavour to the salad, I toss the boiled potatoes in some extra-virgin olive oil and fresh dill.
To cut down on prep time and clean up, I boil the potatoes and eggs in the same pot. While the eggs will take exactly 12 minutes, the potatoes can take between 16 and 18, depending on their size. I encourage you to boil the creamer potatoes whole because otherwise they will start to crumble in the water. If cooking indoors, I use a cast-iron grill pan to cook the chicken and green beans. I won't lie, the chicken tastes much, much better when cooked on the Traeger, but a grill-pan will get the job done.
If you're in a serious time crunch, feel free to simply dress the salad with some extra-virgin olive oil, red wine vinegar and a pinch of salt and pepper. If, however, you want to take things to the next level, make a quick-and-easy Red Wine Vinaigrette. The flavours from the grainy mustard, honey and garlic are perfect with the salad ingredients. Just keep in mind that honey is off limits during Whole30, so feel free to omit if you're making the dressing while doing a round.
As always, I think you should feel free to experiment with different versions of this salad and see which combinations of flavours and ingredients you like best. After all, you're the one that has to eat it! Try adding julienned red bell pepper, canned artichoke hearts, sliced cucumbers, or substitute grilled salmon. You're the boss, applesauce!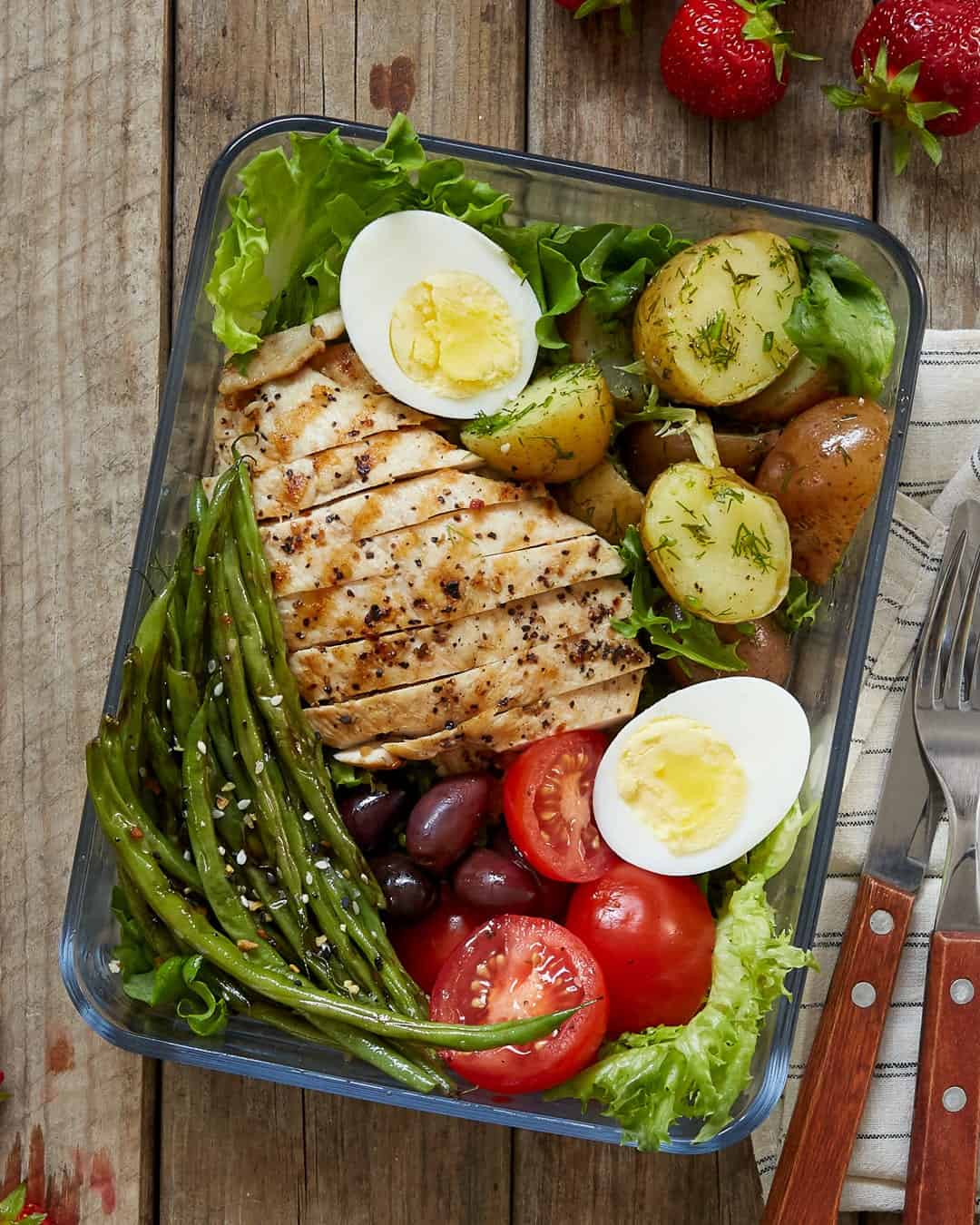 Grilled Chicken Niçoise Salad - Whole30
Ingredients
1.5

pounds

yellow creamer potatoes

8

large eggs

Kosher salt

Extra-virgin olive oil

1/8

cup

finely chopped fresh dill

2

pounds

boneless

skinless chicken breast (about 4 large breasts), sliced in half, horizontally, and tenderloins separated

2

teaspoons

dehydrated onion flakes

1

teaspoon

dried red chili flakes

1/2

teaspoon

freshly-cracked black pepper

1/2

pound

green beans

2

teaspoons

Everything But the Bagel Seasoning from Trader Joe's

or other brand

2

large heads of green leaf lettuce

about 1.5 pounds, roughly torn into 2-inch strips

1

pint

cherry tomatoes

sliced in half

4

large red radishes

or 8 small, thinly sliced into discs

1/2

cup

black olives

such as Kalamata
For the Red Wine Vinaigrette
1/2

cup

extra virgin olive oil

1/4

cup

red wine vinegar

2

tablespoons

grainy mustard

2

teaspoons

honey

2

small cloves garlic

finely grated

1/2

teaspoon

kosher salt

1/4

teaspoon

freshly-cracked black pepper
Instructions
For the Red Wine Vinaigrette:
Add all of the ingredients to a mason jar, seal and shake vigorously until emulsified. Set aside at room temperature for up to 1 hour or refrigerate up to 2 weeks. If refrigerating, let thaw 10 minutes before serving.
For the Niçoise Salad:
Bring a large pot of water to a boil. Season the water with 2 tablespoons of salt and add the potatoes and eggs. Cook the eggs exactly 12 minutes and transfer them to an ice bath until cooled. Cook the potatoes until fork tender, 16 to 18 minutes. Drain the potatoes and let cool in the pot.

Peel the eggs under running water, slice in half and set aside. Slice the potatoes in half and toss to coat with 2 tablespoons olive oil and dill. Set aside

Preheat a cast-iron grill pan or grill over medium-high heat. Drizzle the chicken with olive oil and season both sides with onion flakes, chili flakes, salt and pepper. Cook the chicken until grill marks form, about 4 minutes, then flip and cook an additional 3 minutes or until the thickest part of the breast registers 165F on an instant-read meat thermometer. If using a grill pan, work in batches so as not to overcrowd the pan. Transfer the chicken to a board and set aside.

Wipe the grill pan clean and set over medium-high heat. Add 1 tablespoon olive oil and cook the green beans, flipping regularly, until slightly charred, about 5 minutes. Season with 1 teaspoon Everything But the Bagel seasoning and toss to coat. Set aside.

To assemble the salad, lay down a bed of lettuce and top with potatoes, eggs, grilled chicken, green beans, tomatoes, radish, and olives. Drizzle with red wine vinaigrette and serve. Can be refrigerated individually or assembled for 4 to 5 days.