This kale, sausage and pepper skillet is a perfect example of how you can make a delicious and healthy meal with plenty of leftovers in around 30 minutes. It's especially great for anyone trying to work more greens into their diet. Braising roughage like kale, spinach or collards softens the leaves, gets rid of excess moisture, and saves your jaw from all that unnecessary chewing. Feel free to use your favorite sausages as long as they are free of junk like wheat-fillers, sugars and preservatives. Best bet is to get sausages that are made by the butcher in-house.
Give it a go and let me know what you think in the comments below.
Cheers,
Ronny

A very special thanks to Zwilling J. A. Henckels for generously providing the Staub 10″ Fry Pan, Miyabi 6000MCT 6″ Gyutoh and Twin Bamboo Board used in preparing this recipe.
Kale, Sausage and Pepper Skillet
Serves approx. 2
Ingredients:
4 Whole30-compliant sausages – pork, turkey or beef
½ large red onion – julienned
½ red bell pepper – julienned
3-4 cloves garlic – minced
1 red chili pepper – or substitute jalapeño
1 head kale – stems removed and roughly chopped into 1" ribbons
½ cup tepid water
1 tsp fennel seeds
salt and pepper
2 tbsp Extra Virgin Olive Oil (EVOO)
Method:
Preheat your oven to 400F
Heat an oven-safe skillet over medium heat. When the skillet is hot, add 2 tbsp EVOO. Add sausages to the skillet and brown for 4-5 minutes or until a golden brown crust is formed. Flip and brown the other side for another 4-5 minutes.
Transfer sausages to a plate and set aside for the moment.
Drain all but 3 tbsp of the rendered juices in the skillet. Add in the onions, peppers, garlic and chilies. Season with a pinch of salt and pepper. Sautée until the onions are translucent and the peppers have softened (approx. 7-10 minutes). Stir occasionally to avoid burning.
Add 1 tsp fennel seeds and cook for 1 minute to release their essential oils.
Add 1/2 cup water and scrape any brown bits off the bottom of the skillet with a spatula or wooden spoon.
Working in batches, start to add in the kale 1-2 handfuls at a time. Don't worry, as the kale heats, it will significantly reduce in volume. Continue to toss it with the hot vegetables and water until it all fits into the skillet.
Once all of the kale is all in, lay the sausages overtop of the wilted greens and transfer the skillet to the preheated oven. Cook approx. 15minutes at 400F (cooking time varies according to size of sausages and heat of oven).
Remove from oven and serve directly in the pan alongside baked sweet potato or cauliflower rice.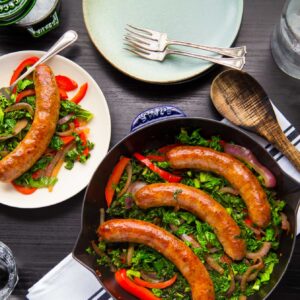 Kale, Sausage & Pepper Skillet