In my very biased opinion, this Asian Rainbow Trout Slaw is the perfect weeknight meal! It's delicious, super easy, and takes about 20 min to cook (including prep). It's actually a riff on my Quick-and-Easy Asian-style Rainbow Trout, which believe it or not was the very first recipe I ever posted to this blog. My, how time flies! Happy to say that several years later I am still happily cooking this dish in various ways!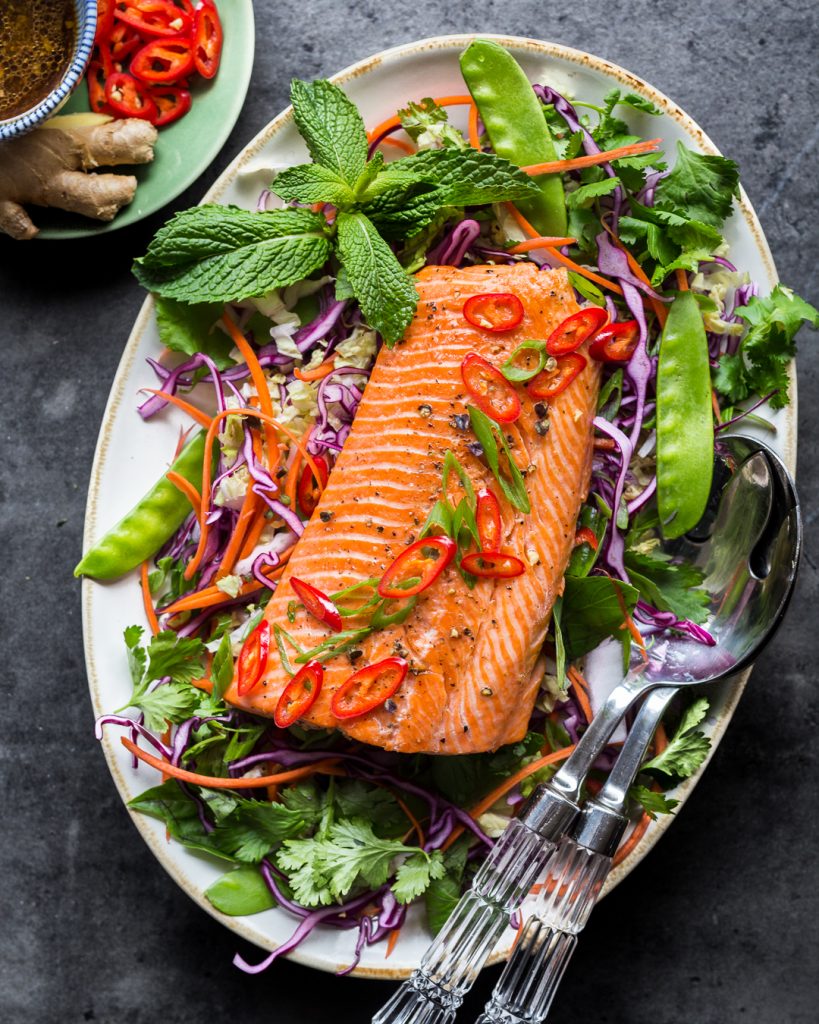 I guess you can call this the latest rendition of a classic. A cover song, if you will. The trout takes centre stage again but this time it's backed up by a beautiful slaw made from different types of cabbage, tons of fresh herbs, crunchy veggies and a delicious Asian-inspired vinaigrette. It's hearty enough to be eaten as a main course but it's super light and refreshing so it leave you feeling weighed down. I warn you though, it's really easy to eat your own weight in this slaw so consider making more than you think you'll need!
This is especially true of the vinaigrette, which I recommend making double or triple batches of.
Meal Prepping? 
The Asian slaw is perfect for a weekly meal pre because it's made of veggies that can keep their texture for a couple days in the fridge. I don't like leftover fish, so that is usually eaten the first night. Subsequent meals through the week will likely include roasted chicken!
When it comes to prepping the slaw, I usually make a big batch of the vinaigrette and store it in a mason jar in the fridge. Then I prep and toss all the veggies in a big bowl and transfer them to a zip-top bag to be stored them in the fridge as well. When I need to pack lunch for work the next day, I simply grab a handful of the slaw, some lean protein (as mentioned, this slaw is perfect with leftover Emergency Roast Chicken or even grilled steak or lamb) and drizzle some dressing overtop. When I get to work, I give my salad container a big shake and I'm good to go!
As far as cost goes, I don't think things can get any more budget-friendly. Cabbage costs pennies on the dollar compared to leafy greens, it will give you a greater yield, it doesn't go bad as quickly, and can be used in a variety of ways. For the fresh herbs, I recommend hitting up your local Asian grocery store or Chinatown market. They always have the best variety of fresh herbs and they're usually cheaper than most grocery stores.
I hope you enjoy this recipe! Let me know how it goes in the comments below!
Cheers,
Ronny
Asian Rainbow Trout Slaw - Whole30
This Asian Rainbow Trout Slaw is delicious, super easy, and takes about 20 min to cook (including prep). It can also be made with leftover roasted chicken if you are not fond of fish.
Ingredients
Asian Rainbow Trout Slaw
1

lb

rainbow trout

preferably wild-caught

1/2

head

purple cabbage

shaved

1/2

head

napa cabbage

shaved

2

med-sized

carrots

julienned

1

cup

snow peas

left whole

1

cup

fresh cilantro leaves

torn

12-15

sprigs

fresh mint

torn

12-15

sprigs

fresh Thai basil

torn

3

green onions

finely sliced on bias

1

red chili pepper

finely sliced on bias

1

tsp

avocado oil

pinch

kosher salt

pinch

black pepepr
Vinaigrette
3

tbsp

rice wine vinegar

3

tbsp

coconut aminos

1.5

tbsp

toasted sesame oil

1

tsp

fresh ginger

finely grated

1

tsp

fresh garlic

finely grated

1.5

tbsp

maple syrup

omit if whole30

1

dash

fish sauce

compliant
Instructions
Rainbow Trout
Preheat oven to 400F and position a rack in the centre position.

Rinse and pat trout dry. Brush both sides with avocado oil and lightly season with kosher salt and pepper. Lay trout on a baking sheet skin-side up.

Once oven is preheated, switch to broil mode. Transfer fish to oven and broil 6-7 minutes or until cooked through and skin is crispy. *Note: this cooking time works best for a trout filet approximately 1" thick.
Asian Slaw
Add red cabbage, napa cabbage, carrots, snow peas, cilantro, mint, basil, and green onions to a large mixing bowl and toss everything to combine.

In a separate, smaller mixing bowl, add rice wine vinegar, coconut aminos, sesame oil, ginger, garlic, maple syrup and fish sauce. Stir until thoroughly combined.

Pour vinaigrette over the slaw and toss everything to coat. Transfer to a serving platter, top with the broiled trout, garnish with green onions and chilies. Serve!