The reverse-seared technique is my go-to method for cooking larger steaks, prime-ribs, and even entire racks of lamb like this one here. The process takes out nearly all of the guess work that is associated with the more common method for cooking coveted cuts of meat, which usually starts by searing and then finishing in the oven.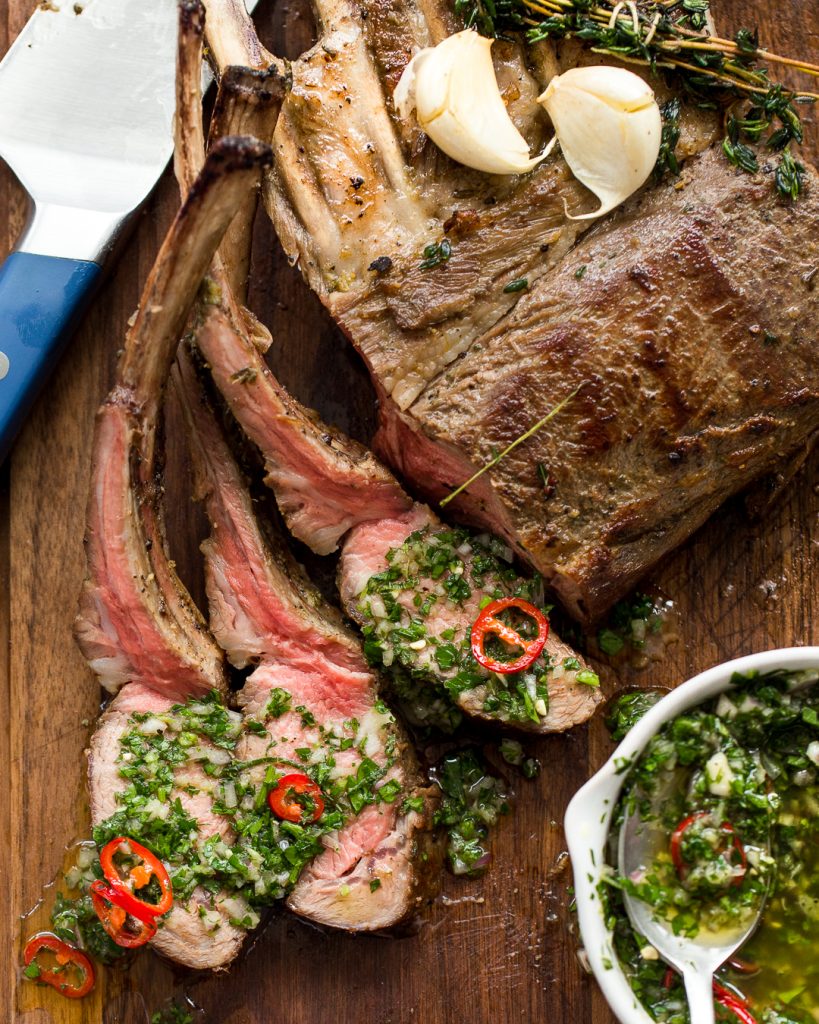 Reverse-searing on the other hand, is pretty much exactly what it sounds like. Instead of searing the meat first and finishing it in the oven, you slowly raise the internal temperature of the meat in a low-temperature oven (anywhere between 225F and 275F) before searing it over very high heat. You can finish it over a grill or in a cast-iron skillet.
For this rack of lamb I decided to sear it in a skillet and baste with some ghee, garlic and thyme. Though rosemary would make an excellent substitution!
In theory, reverse-searing works similar to a sous-vide, which entails cooking foods in an oxygen-free environment (usually a vacuum-sealed plastic bag) under a temperature-controlled water bath. The heat of the water is regulated to precise degree by a circulator. Until recently, sous-vide circulators were very expensive. More affordable options are now available but I have yet to bite the bullet and purchase one for myself.
The practical applications of the reverse-seared technique is actually very far-reaching. You can do this with a variety of meats. Not least of which is a beautiful rack of lamb.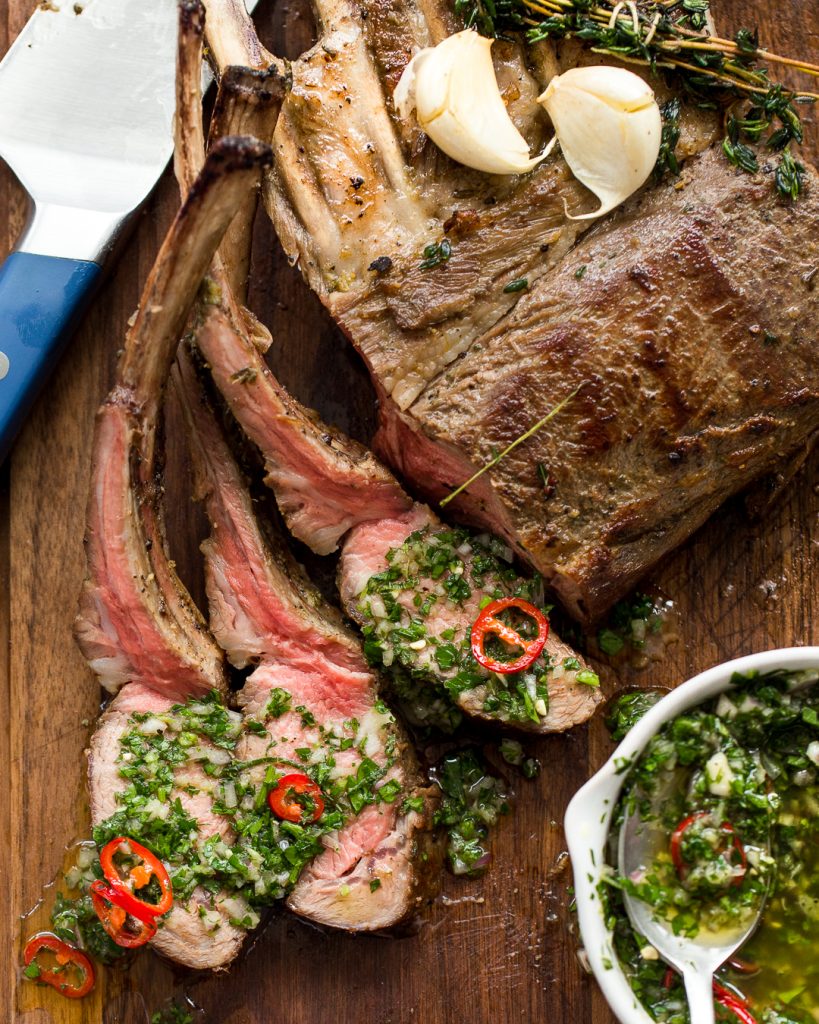 In terms of flavours, I like to keep things simple. Marinating the lamb in a mixture of garlic, thyme, olive oil, and lemon juice will impart a lot of flavour with minimal effort. As mentioned, fresh rosemary can be used instead of the thyme. I just decided to go with what I had on hand.
To sauce things up, I decided to make a quick-and-easy mint salsa verde. This is nothing like the mint jelly I despised eating growing up. It's packed with finely chopped fresh mint, parsley, garlic, shallot, red chili pepper, olive oil, lemon juice, salt and pepper. The secret weapon is the addition of a tiny amount of maple syrup. Just a teaspoon of the stuff is enough to completely change the balance of flavours. However, if you are on a round of Whole30, feel free to omit the natural sweetener altogether. It will still be delicious!

THINGS YOU'LL NEED FOR THE REVERSE-SEARED TECHNIQUE
Meat Thermometer. This really won't work unless you have a meat thermometer. For accuracy, I recommend getting a digital one like this

Lavatools model

. It's affordable and accurate. Unless you're cooking in a professional setting, there is absolutely no need to get an expensive one. You're better off spending that extra coin on a grass-fed, organic rack of lamb.

A Cooling Rack + Sheet Pan Combo

: You want air circulating around the meat so that it cooks evenly on all sides. This is easily achieved by placing it on an oven-safe cooling rack set over a sheet pan. Ideally, you want to make sure that the size of the cooling rack corresponds to that of the baking sheet beneath it, like this one. This will help with easy clean up because when your done cooking you can simply fill the baking tray with hot, soapy water and submerge the inverted cooling rack in it to ease off grease and any hardened pieces of meat/fat.
A Carbon-Steel of Cast-Iron skillet: If you don't have a grill to sear the meat after it has slowly roasted in the oven, the next best thing is a carbon-steel or cast-iron skillet. I always recommend

this Lodge model 

for cast-iron because it's inexpensive and really is the best bang-for-your-buck pan you can buy. For carbon-steel, Made In has recently released a great one that I've been using for a few months now.
Reverse-Seared Rack of Lamb with Mint Salsa Verde - Whole30, Paleo
This Reverse-Seared Rack of Lamb is an easy way to fool your friends into thinking you're a gourmet chef. Try pairing it with a delicious Mint Salsa Verde!
Ingredients
8-10

bone rack of lamb

1

tbsp

fresh thyme or rosemary – finely chopped

8-10

sprigs fresh thyme or rosemary - wrapped together with twine

2

cloves

garlic – finely minced or ground to a paste

2

cloves

garlic - smashed but left in their skin

1

tbsp

ghee

1/4

cup

EVOO

2

tbsp

lemon juice

kosher salt and freshly-cracked pepper
For the Mint Salsa Verde
1

shallot – finely chopped

½

cup

fresh parsley leaves – finely chopped

8-10

fresh mint leaves – finely chopped

2

cloves

garlic – finely grated

1

red finger chili pepper – thinly sliced

juice of half a lemon

½

cup

EVOO

1

tsp

maple syrup

optional; omit for Whole30

kosher salt and freshly cracked black pepper - to taste
Instructions
Day before cooking:
To a small bowl, add chopped thyme, grated garlic, lemon juice and EVOO – stir to combine. Alternatively, add these ingredients to a mortar and pestle and bash until formed into a paste.

Trim lamb of any excess fat or silver skin. Pat dry with paper towel and season all sides liberally with salt and pepper. Transfer lamb to a zip-top bag set within a bowl and pour in the marinade. Seal the top of the bag and gently massage the marinade around the lamb. Squeeze out all of the air from the bag and seal it tight. Transfer to refrigerator and let marinate 4 hours to overnight.
Day of cooking:
Preheat oven to 225F.

Place the rack of lamb bone-side down on a cooling rack set over a sheetpan. Transfer lamb to oven and roast 30-45 minutes or until internal temperature of the thickest part of the lamb reads *125F on a digital thermometer (*for medium-rare to medium centre). Cooking times vary depending on thickness of meat and efficiency of oven.

Meanwhile, prepare salsa verde by adding all ingredients to a mixing bowl and stirring to combine. Taste for seasoning and adjust as required. Set aside at room temperature.

When lamb is cooked to temperature, preheat a cast-iron or carbon steel pan over medium-high heat. Add ghee, thyme sprigs wrapped in twine and smashed garlic cloves to the pan. Carefully lay rack of lamb in the pan, top-side down first. Place garlic and thyme on top of lamb and sear meat 2-3 minutes, basting constantly with melted ghee. Flip and continue basting.

Transfer seared lamb to a cutting board and let rest 5 minutes before carving. Serve with Mint Salsa Verde.