Crispy, juicy and bursting with flavour, these Sesame Garlic Brussels Sprouts are destined to be your new favourite side dish. They're incredibly easy, take 10 minutes to cook and are almost fool-proof. My only piece of advice is to quadruple the recipe because people will be fighting over these Brussels sprouts, kids included.
I've shared this magical technique for cooking Brussels sprouts before, but it's worth repeating here. I wish I could take full credit for it, but it's something I learned from an episode of the Splendid Table podcast. On Episode 618: Touring Harlem, Dan Souza from America's Test Kitchen revealed the secret to perfectly caramelized yet juicy Brussels sprouts.
The Brussels sprouts are cut in half and placed cut-side down in a cold skillet with a generous amount of oil. The skillet is then covered with a lid and placed over medium-high heat. As the heat gradually rises, the cut-sides of the Brussels sprouts start to caramelize while releasing moisture that simultaneously steams them. After only 5 minutes, a crust develops and the lid is removed to further caramelize the sprouts. After another 4-5 minutes they're perfectly cooked.
No blanching, no flipping halfway, no additional steps required. The results are always incredible as long as you trust the process and don't start peaking under the lid. It truly is a thing of beauty!
The Brussels sprouts are so good that they can be enjoyed with little more than a pinch of salt and squeeze of lemon. For added flavour, I decided to make a simple Sesame Garlic vinaigrette with only a few ingredients. The flavours really work well with the Brussels sprouts and it looks beautiful on the table.
I should mention that because the Sesame Garlic vinaigrette has a tiny splash of honey, it is not Whole30. However, honey is a natural sweetener and considered Paleo-friendly. You could also substitute maple syrup or agave syrup for slightly different flavour profiles.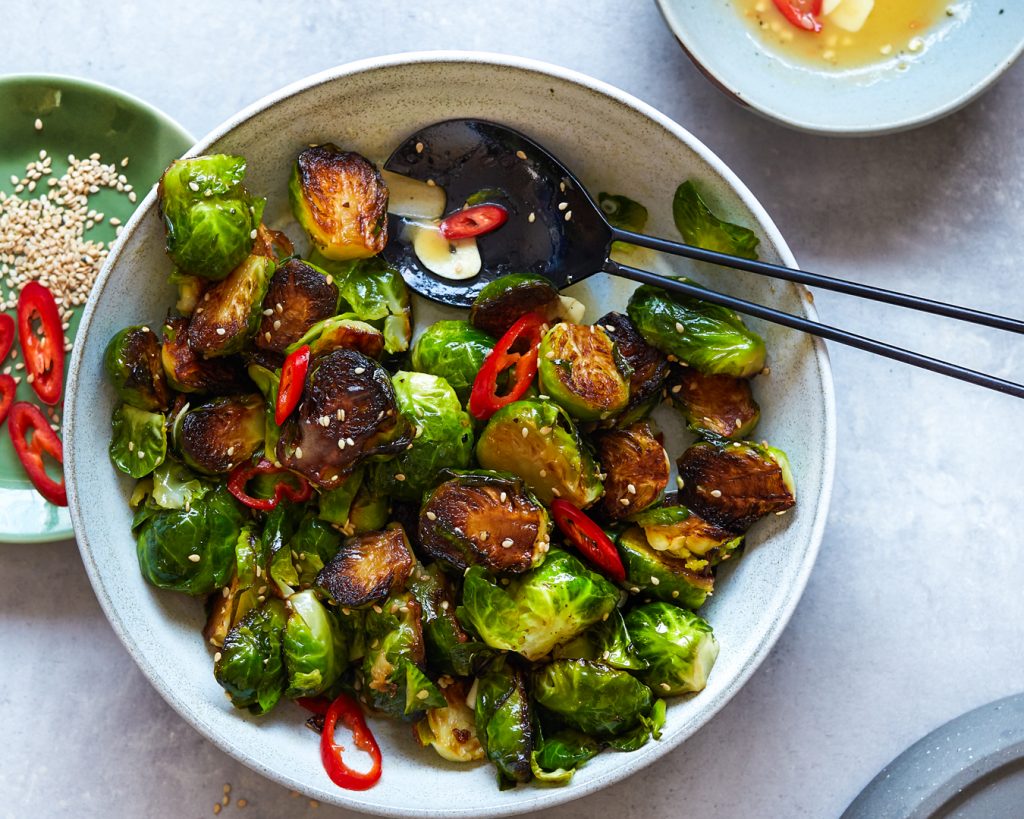 Can I Make These Sesame Garlic Brussels Sprouts in Advance?
They do taste best when cooked immediately before serving but yes, they can be made in advance.
I recommend cooking the Brussels sprouts one batch at a time so that you get a really nice caramelization on the bottom of each half. I usually manage to fit 1 pound of Brussels sprouts in a 12″ sauté pan and this tends to feed two people as a side dish.
I would then place the cooked sprouts onto a baking sheet or oven-safe casserole dish and keep them in a warm oven around 200F while you cook the remaining Brussels sprouts.
Just keep in mind that the longer they sit in the oven the more chance they will dry out. But you should be able to keep them warm for at least an hour in advance.
Before serving, toss them in the vinaigrette while they're still warm and serve immediately.
Sesame Garlic Brussels Sprouts - Paleo
Crispy, juicy and bursting with flavour, these Sesame Garlic Brussels
Sprouts are destined to be your new favourite side dish.
Ingredients
3

tablespoons

Extra Virgin olive oil

2

tablespoons

rice wine vinegar

1

teaspoon

sesame oil

1

teaspoon

honey

1

clove

garlic

thinly sliced

1

red chili pepper

such as finger or Anaheim, thinly sliced

kosher salt and freshly-cracked black pepper to taste

1

pound

raw Brussels sprouts

3 to 4

tablespoons

avocado oil

1

teaspoon

sesame seeds

for garnish
Instructions
In a mason jar, combine the olive oil, rice wine vinegar, sesame oil, honey, garlic, and chili pepper. Season with salt and pepper to taste and shake until emulsified. Taste for seasoning and adjust with salt and pepper as desired. Set aside at room temperature.

Rinse the Brussels sprouts and dry thoroughly. Trim their bottom ends and cut in half, lengthwise.

Add avocado oil to a cold, 12" stainless-steel sauté pan. Lay Brussels sprouts, cut-side down, in the pan in a single layer. Do not over crowd the pan.

Cover the skillet with a lid, place over med-high heat and cook until the bottoms of the Brussels sprouts start to develop a crust, around 5 minutes. Remove lid and cook until the Brussels sprouts are deeply caramelized, around 4 more minutes.

Transfer the cooked Brussels sprouts to a bowl, drizzle half of the vinaigrette overtop and toss to coat.

Arrange dressed Brussels sprouts on a serving platter, drizzle with the remaining vinaigrette and garnish with sesame seeds. Serve immediately.