Rich, hearty and decadent, this Whole30 Bolognese is the ultimate comfort food and can be enjoyed year round. Serve it with zucchini noodles or your favourite pasta. It's also an incredible base sauce for homemade lasagna!
I have had a long love affair with Italian cooking. If you read My Paleo Story , you'll know that I've been enamoured with Italian flavours and recipes since childhood. For a very long time, Italian food was all I ever cooked and I was convinced that the true test of any great chef was their ragù Bolognese.
Ragù Bolognese is a flavourful meat sauce that originated in Bologna, Italy – as the name implies. If you ask anyone in Bologna who makes the best bolognese, the answer will undoubtedly be "my mother." Or better yet, "my nonna" (grandma).
The best Bolognese I have personally ever eaten was at Locanda del Gallese, a tiny restaurant in an equally tiny town called Biassa, just outside of Cinque Terre in the north west of Italy. My wife and I stayed in Biassa while we were backpacking through western Europe in 2008. We wanted to hike the Cinque Terre coast and Biassa offered  cheaper accommodations at Ostello Tramonti. As an aside, Biassa in general is a beautiful, sleepy town that I highly recommend if you are looking for a more romantic destination that is off of the beaten, tourist path. It's nestled in the hillside and offers some breathtaking views.
Back to the food though, the dish we ate was unlike any ragù I had ever eaten. It bursted with earthy notes from the fresh thyme that was added to the sauce. It was a deep, rich, red colour. The meat melted in your mouth. The dish was a pure triumph. Heavenly! I have been trying to recreate it ever since. Sometimes I've come closer than others.
In Italy, recipes like ragù bolognese are passed from generation to generation. What then, was a little boy from Toronto, raised by Russian immigrants with no idea of what ragù even was, supposed to do when he wanted to learn the art of this classic Italian comfort food? Indeed, my babushka had also never even heard of it the first time I made it for her and my grandpa.
I've experimented with so many different ways of making this meat sauce and have spent the better part of my life trying to perfect it. It's nowhere near perfect, but it's really, really good. The recipe I show you here is a combination of years of trial-and-error, different influences, my personal travels, my Biassa memories, and a new found love of healthy food. It's packed with tons of deep, rich, delicious flavours that are always a favourite in my house. It's super easy, healthy and not overcomplicated. This is a rustic, simple dish that will win over anyone, health-conscious or not!
2018 Bolognese Edits
I've recently picked up a few tools and tricks and have been asked by many to share them in a revised blog post.
Brown in Ball Form
Firstly, I've started browning meat in ball form. This is something I heard on the Bon Apetit Food Cast. In their Lasagna episode, the food editor describes the process of browning meat in the shape of meat balls. Not only does it allow you to brown more meat without overcrowding the pan, but it also makes the meat much easier to handle. Even though you will crumble the meat afterwards, it is still a more effective method since the meatballs allow for some empty space in the pan, which will avoid steaming the meat and allow for browning.
Can You Make it in an Instant Pot?
Secondly, I am now the owner of an Instant Pot. This multicooker (electric pressure cooker) has truly changed the game. You can read my unbiased review here. Whole30 Bolognese is just one of the things I like cooking in it. The tougher cuts used in most packaged ground meat requires quite a bit of time to break down and become tender. The Instant Pot really speeds this process along but it also allows for very little evaporation.
In the case of a tomato-based sauce, evaporation is typically a good thing since it allows for a reduction and the concentration of flavours. Think about a watery tomato sauce and tell me if it's something you like. If you're going to use the Instant Pot to make this recipe, I strongly encourage you to spend a few extra minutes and reduce the sauce after it is done cooking. You can do this by simply switching the machine back to Sauté mode and allowing the sauce to cook a little longer with the lid off. Just be sure to stir it constantly to avoid burning.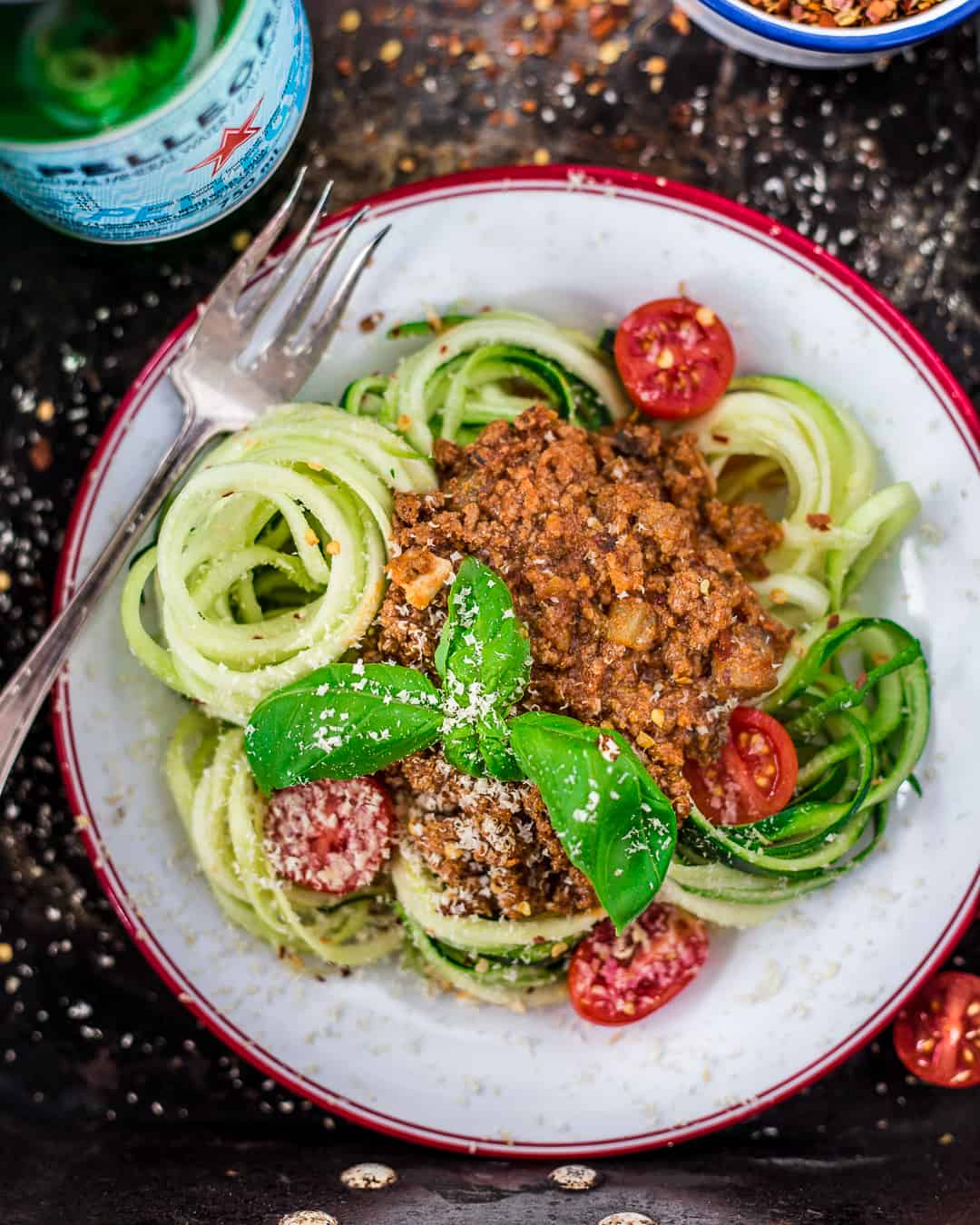 Whole30 Bolognese
Rich, hearty and decadent, this Whole30 Bolognese is the ultimate comfort food. Enjoy with zucchini noodles or your favourite pasta.
Ingredients
2

lbs

grass fed lean ground beef

8

cloves garlic

peeled, smashed, left whole

4

anchovy filets packed in olive oil

1

large carrot

coarsely grated

1

large onion

diced

1

large celery stalk

diced

Kosher salt

1

small tin

tomato paste

2

cups

chicken stock

or enough to cover the meat

2

tbsp

fresh thyme

substitute 3/4 teaspoon dry thyme and/or oregano

2

bay leaves

dry or fresh

crushed red chile flakes

optional

freshly-cracked black pepper

to taste
Instructions
Using your hands, form the beef into large meatballs. It's OK if they are not all the same size. Set aside.

Preheat a sauté pan or Dutch oven over medium-high heat for 5 minutes. Add avocado oil and heat until shimmering. Add the meatballs and cook until browned, around 6 minutes. Flip and brown the other side, around 6 more minutes. Reserve the fat in the pan and transfer the meat to a bowl. Set aside.

Lower the heat to medium and add the garlic and anchovies. Cook, stirring, for 2 minutes, or until fragrant and golden. Add the carrot, onion and celery. Season with a pinch of salt and cook, stirring, until softened, around 8 minutes. Add the tomato paste and stir to combine.

Return the browned meat to the pot and crumble it using a wooden spoon or potato masher. Add the chicken stock, thyme and bay leaves. Stir to combine, and bring to a simmer. Season with 1 teaspoon salt and 1/4 teaspoon pepper, cover with a lid, reduce the heat to low and cook, stirring occasionally, for 60 minutes. You can cook it for less time but it won't allow for the beef to soften or the flavours to come together.

Taste the ragu for seasoning and adjust with salt and pepper as desired.

20 minutes before serving, bring a large pot of water to a boil. Season with 1 tablespoon of salt and cook the pasta according to package instructions. Drain the pasta, reserving ½ cup of cooking liquid.

Add 2 cups of sauce and the reserved pasta water to the drained pasta and toss to combine. Plate the pasta in individual serving bowls, spoon over a bit more of the ragu.