This recipe was developed in partnership with The Original Greenpan. I used the Revolution Cookware Set available exclusively at Williams Sonoma. I love this set of pots and pans so much that I've partnered with GreenPan and Williams Sonoma to give away 3 (three) Revolution 10-piece cookware sets to some lucky winners!
For full contest details, see here.
Caldo Verde is a classic, rustic Portuguese soup made from potatoes, sausage and finely shredded leafy greens. It literally translates to 'Green Broth' in Portuguese and is one of my absolute favourite dishes of all time! It's easy to make, filling, comforting, delicious and is loaded with ribbons of beautiful, wilted greens! It's Portuguese soul food!
Every single time I make a big batch of Caldo Verde I always think it will last us a couple of days. Yet before I know it, I always find myself staring hopelessly into an empty pot contemplating where it's all gone! I'm sure it has nothing to do with the fact that I sneak into the kitchen at night to grab an extra serving or that Catalina often eats a bowl or two for breakfast the next morning! I can't blame her. It's insanely good and my entire family goes crazy for it!
Caldo Verde and the Question of Tradition…
I've encountered a number of variations on this rustic dish. Since I try to steer clear of food politics I'll just say that each is as good as the last. If you want to start debating whether "real" or "authentic" Caldo Verde requires "X, Y or Z", have fun! You're the boss, applesauce 😉
On the other hand, if you'd like to kindly share your favourite version of the dish, please let me know in the comments below. I am genuinely interested in how others put their spin on this classic!
All I know is that most traditional recipes call for regular, yellow potatoes, sausage and collard greens or kale. These are the usual suspects. As far as I'm concerned, just about everything else is fair game and if you want to add other things to the mix, it's your business.
Sometimes the broth and potatoes are blended before adding the greens and sausage. Other times the potatoes are left chunky. Sometimes only water is used for the broth, other times it's chicken or vegetable stock, or a combination of the two. You can chop the greens into ribbons, or you can leave them chunky. Again, you're the boss, applesauce!
Instead of telling you WHAT to do, I'll just recap some of the observations I've made throughout my journey of eating and cooking as many Caldo Verdes as humanly possible. Then, I'll share my personal favourite way of making this dish.
As far as sausages go, the traditional choice is to use a Portuguese chouriço (chorizo) or linguiça. Both are wonderful, rich, paprika-loaded, pork sausages. These come either cured, smoked, smoke-cured or raw. Note that the type of sausage you purchase will have a direct impact on how you cook this recipe. For example, since I use a cured chorizo in my version, which does not require additional cooking, all I have to do is slice it and add it to the soup a few minutes before serving.
If you plan on making this Whole30 and Paleo version, your first order of business is to source a compliant sausage, which can be a bit tricky. Availability will depend entirely on where you live and your budget. Personally, I buy Palacios Dry Hot Chorizo from Organic Garage, a grocery store in the Toronto area. It's a cured sausage made from pork, paprika, salt, hot paprika and garlic – that's it!
The sausage is free of sugars and fillers but absolutely loaded with sodium. With 480mg of sodium per 28gr and one sausage being 225gr, you're looking at just under 4000mg sodium for the whole link! To offset this, I use equal parts low-sodium chicken stock and water for the broth, and I adjust seasoning after adding the sausage to the soup. That way, I don't over season with salt. Remember, you can always add but it's very hard to take away.
If you use a raw sausage, like a butcher shop chorizo, for example, you will likely have to par-cook it before slicing it so that it can hold its shape. (I've included a secondary recipe for times when only raw sausages are available.) The goal seems to be to have beautiful discs of sausage floating throughout the soup. These will get picked up by the spoon along with ribbons of delicate, wilted greens. Side note for those in the Toronto area: The Healthy Butcher sells delicious, compliant chorizo sausages.
If you can't find a compliant chorizo or linguiça sausage, feel free to substitute any mild or spicy compliant sausage you like. Try to avoid ones that have strong flavours that will compete with the soup (things like English Bangers or French sausages with sage, etc). You can compensate by adding an extra tsp or two of smoked paprika to the soup itself. I actually do this regardless. It does add a bit of colour to the broth but it's a fair trade as far as flavours goes.
You can use any type of green kale you like [curly or lacinato (AKA black or dino kale] or collard greens. I suppose you can use purple kale if that's all you have but remember, the dish is called Caldo Verde (Green Broth), so maybe let's just stick to the green stuff on this one?
I'm very happy with curly or dino kale but most often find myself using the supremely underrated collards. They are more robust, cheaper by quantity, and hold their ribbon shapes more nicely. Having said that, the images below were shot after making a batch with lacinato kale because I found a beautiful bunch of it at the store that day.
In terms of potatoes, any soft-skin, yellow or white flesh potato can be used. Yukon Golds are a common choice. If you plan to blend the soup, as I most often do, you will want to peel the potatoes so that you end up with a silky-smooth broth. If, however, you will not be blending the soup, feel free to leave the skins on for a more rustic finished product. Just keep in mind that tougher skins, like those on a Russet potato, don't impart a great texture for something like this Caldo Verde.
A note on Caldo Verde and potatoes…
Potatoes are indeed Whole30 compliant, which means you can totally go down the more traditional route when making Caldo Verde. Regular potatoes, however, are not Paleo-friendly. They are high-glycemic and not a viable option for certain individuals, such as those dealing with diabetes or high-blood sugar issues.
As a workaround, I originally developed this Caldo Verde to be both Paleo and Whole30 compliant. This is easily done by using Japanese yams – the white-fleshed and purple or brown-skinned sweet potatoes you find at the grocery store. These are not to be confused with orange-fleshed sweet potatoes.
The result is a more glycemic-friendly version of the dish. The Japanese yams also add an unexpected sweetness to the soup that balances the spice from the sausage and mild bitterness from the greens!
Since I know someone will ask, I personally do not like using orange sweet potatoes here. They're just too sweet and the colour of the soup changes dramatically. You can do it if you want, but I can't vouch for the flavour.
Lastly, I have found that my favourite texture and flavour comes from using equal parts water and organic chicken stock. It results in a richer, more complex Caldo Verde.
Perhaps the best part of this Whole30 Caldo Verde is that it's all cooked in a single pot with minimal effort in about 45min!
Use this recipe for cooking Caldo Verde with cured or smoked sausages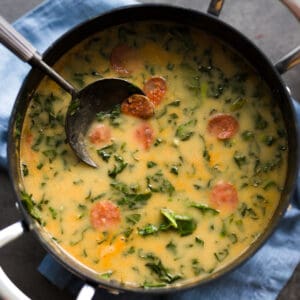 Ingredients
225

gr

cured Chorizo sausages

1

large white onion

sliced or roughly chopped

1

large bunch kale or collards of choice

sliced into fine ribbons

3

cloves

Garlic

peeled and smashed

1

liter

Organic, Low-Sodium Chicken Stock

1

liter

Water

3

medium Japanese Yams or yellow fleshed potatoes

peeled and cut into cubed

1

tbsp

smoked Spanish paprika

1

tsp

cayenne pepper

optional

2

tbsp

Extra Virgin Olive Oil

(EVOO)

Kosher Salt and Black Pepper

to taste
Instructions
In a large Dutch Oven or heavy-bottomed stockpot, heat 2 tbsp EVOO over medium-high heat. Add onion and season with a pinch of salt. Sweat onion (i.e. cook without developing colour) until soft and translucent (approx. 10-12 min).

Add garlic and cook additional 1-2 minutes. Add smoked paprika and cayenne pepper and cook additional 60 second - stir constantly to avoid burning.

Add chicken stock, water, and potatoes. Raise temperature to high heat and bring to a boil. Cover partially with a lid and cook until the yams are fork tender (approx. 8-10 minutes). Tip: the smaller you cut the yams, the faster they will cook!

Meanwhile, finely chop the kale into thin ribbons, discarding only the lowest stems - set aside. Also, slice the sausages into thin discs - set aside.

Once potatoes are fork tender, carefully use an immersion blender to blend the soup until smooth and creamy. Note: a regular blender or food processor works as well but be mindful of the steam build up in a blender.

Add kale and sausage. Cover partially with a lid and simmer until the kale has significantly wilted and reduced in volume by ¾.

Taste for seasoning - adjust salt and pepper as required.

Serve in individual bowls and enjoy!
Notes
Using an immersion blender is a real life saver in this recipe. It will keep cleaning to a minimum and is much safer than transferring piping hot liquids between pots and blenders. Click here for the model I have.
Use this recipe for cooking Caldo Verde with raw sausages