This Whole30 Picadillo is a true family favourite! Served with freshly fried tostones, some avocado and maybe some rice, it's a delicious way to use your favourite type of ground meat. I've personally made this picadillo more times than I can count and each batch is better than the last! It's easy, feeds a crowd and tastes even better the next day! You can batch cook it and freeze in individual packets for quick-and-easy weeknight meals. Or, you can make it for a special occasion! It's always a crowd pleaser!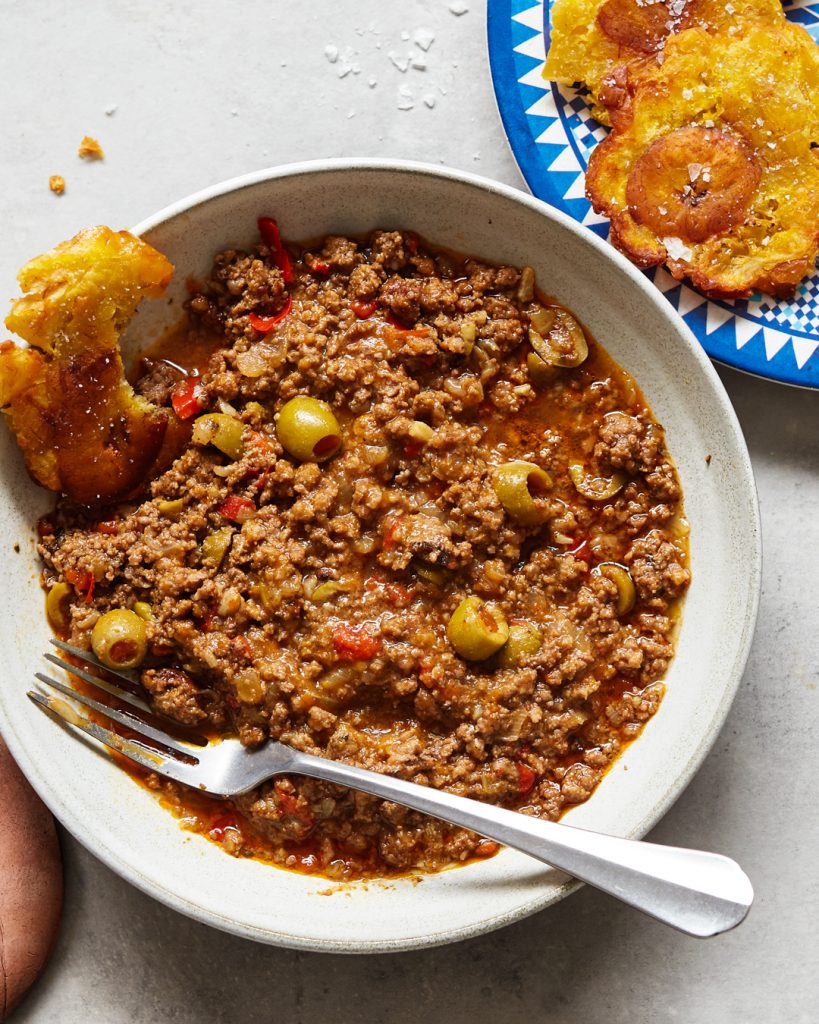 This Picadillo recipe is inspired by Cuban versions made by sautéing ground beef with onions, peppers, olives, capers, raisins and spices. Personally, I like my Picadillo without the capers and raisins. I find that the olives add enough of the briney, salty flavours and I prefer it not to be sweet from the raisins. If you wanna include both, go for it! You're the boss, applesauce!
Lately, I've been serving this Whole30 Picadillo with a side of my Zesty Purple Cabbage Slaw and Tostones. Each recipe is Whole30 compliant and Paleo so they will suit your lifestyles year-round.
Alternatively, you can try making what I call a "Paleo Fries Supreme" by serving the Picadillo overtop of my Baked Sweet Potato Wedges with some of my famous Guacamole. Top everything off with some thinly sliced radish and you're in for a serious treat!
If you love this Whole30 Picadillo, you should try my
For years, I only cooked Picadillo on the stovetop and still think that's the best method for it. I think Picadillo tastes best when the sauce is nice and thick. By cooking it in a Dutch oven or sauté pan, you have more control on the evaporation of liquid. A soupy consistency is not what I'm after here. Note that the stovetop method requires at least 60min of gentle simmering for the meat to breakdown into tender morsels and for the flavours to develop. Aside from the occasional stir, it's a very inactive cooking process and fairly reasonable for a busy weeknight meal that feeds the whole family.
If, however, you find yourself in a pinch and time is of the essence, you can use an Instant Pot. You can cut the cooking time down to 1/4 of the stovetop version and still have a delicious Whole30 Picadillo. As always, if you make this Whole30 Picadillo in your Instant Pot you should still take the steps of browning the meat and sautéing the vegetables and spices. These steps will ensure maximum flavour and texture!
Whole30 Picadillo - Easy and Delicious
This Whole30 Picadillo is easy, delicious, feeds a crowd and tastes even better the next day! Try serving it with some of my Zesty Purple Cabbage Slaw and Tostones for a Cuban-inspired feast!
Ingredients
1

tablespoon

avocado oil

2

pounds

grass-fed lean ground beef

1

large yellow onion

diced or julienned

1

red bell pepper

diced

5

cloves

garlic

finely chopped

2

teaspoons

smoked Spanish paprika

2

teaspoons

ancho chili powder

1

teaspoon

cumin powder

1

teaspoon

dried oregano

1

teaspoon

kosher salt

1

teaspoon

cracked black pepper

1.5

cups

sliced and pitted green olives

such as Manzanilla

1/4

cup

raisins

free of added sugars, optional

2

bay leaves

1.5

cups

organic chicken stock
Instructions
Preheat a Dutch oven or sauté pan over med-high heat. Add 1 tbsp avocado oil and heat until shimmering. Add the beef and cook, using a wooden spoon to crumble it into small pieces, until well browned, around 10 minutes. Use a slotted spoon to transfer the browned beef to a bowl. Set aside.

Discard all but 2 tablespoons of the rendered fat in the pot, reduce the heat to medium and add onions and peppers. Season with a small pinch of salt and cook, stirring occasionally, until the onions are slightly caramelized, 8 to 10 minutes. Add the garlic and cook, stirring, an additional 1 minute or until fragrant.

Add the paprika, chili powder, cumin, oregano, salt and pepper. Cook, stirring, until the spices are toasted, 1 to 2 minutes. Add the chicken stock and use a wooden spoon to lift any brown bits on the bottom of the pot. Return the browned beef to the pot and add the bay leaves, olives and raisins, if using. Bring the liquid to a simmer, cover with a lid, reduce the heat to low and cook, stirring occasionally, for 60 minutes.
Notes
*Note: you can make Picadillo the day before and reheat at the time of serving. The flavours will continue to develop in the fridge over night and it will taste even better the next day!
**Tip: If your Picadillo is a bit too 'watery', remove the lid and cook for an additional 5-10 minutes. This will allow for some of the moisture in the pot to evaporate. It will also concentrate the rich flavours of the Picadillo – a good thing! You are aiming for a thick yet juicy consistency that loosely coats the back of a spoon.
***Careful not to cook the sauce for much longer than 10 minutes or it may dry-out or burn.