Cauliflower Polenta, you ask? Okay, maybe I'm playing spin doctor a bit here. Really, its more of a cauliflower purée. Whereas polenta is made from cornmeal, a dried and coarsely ground flour, this Polenta is made using natural, unprocessed cauliflower. Honestly, they couldn't be further apart but you try serving a meatball over a 'mashed cauliflower' and have people look at you like you're from planet Paleo! Don't worry though, the Cauliflower Polenta is dead-simple to make!
Lately, I've been thinking more and more about my relationship with food. No doubt, more than usual since starting this blog. In so doing, I have come to a realization that many before me have come to: so much of our love of food has so very little to do with how it tastes. Before you call me crazy and go back to online shopping, hear me out. Think about your favorite places to eat and what makes or breaks your experiences there. The ambience of a local restaurant, the music playing at your favorite café, the wine glasses they use at that bar you like, the chairs at the bistro you went to on your first date, the presentation of the meal as it arrives to your table, and, perhaps most discrete of them all, the description of the food – be it on a menu or as described to you by your server. I bet the menu didn't even cross your mind. Did it? It's a very clever and discrete tool the food industry uses to guide our thoughts in whatever direction they want.
Not many people bother to think about the importance of food terminology and just how powerful it is. I honestly admit that I never really contemplated it until right now. Yes, sure, I have always been interested in recipe titles and menu items at restaurants. But, I never critically engaged with them. I'm sure that most of us simply take it for granted. If you do think about it, the ways in which food is described to us has an enormous amount of power over our decision to eat it and our memory of it.
Let's play a little game, shall we? I'll describe two dishes and you decide which you would prefer to eat. Ready?
A) Pesto-Infused, braised Meatballs served over a bed of warm Cauliflower Polenta, topped with Shaved "Pine-igiano Reggiano".
B) Ball-shaped ground beef with herby green stuff cooked in tomato sauce served on a pile of boiled and mashed cauliflower with grated pine nuts.
If you played the game fairly and were honest with yourself, you chose A. Regardless of their descriptions, however, they arrive to the table the same way.
The fact of the matter is that words are powerful. And when it comes to getting healthy and losing weight, when so many restrictions are imposed upon us, words have the power to serve as a saving grace. If we permit ourselves the possibility to take a few liberties with our descriptions and think creatively, it will help us transition to healthier choices, like eating meatballs served over Polenta. Sure, the meat doesn't have mountains of breadcrumbs and the polenta is not as dense as one made from cornmeal, but they are equally satisfying and so much of that satisfaction comes from describing your meal before and after you've eaten it. Have you seen those TV commercials for frozen dinners? You know the ones where the ladies at the office gather 'round the water cooler and describe last-night's meal. They each take turns talking about there chicken cacciatore with papardele, sesame-ginger stir-fry with brown rice, or seared salmon with garlic potatoes. Then the last lady, that poor thing, says she had baked chicken breast with boiled vegetables. Her look of shame and hunger is enough to make you hug the TV. She must feel terrible about herself. All of her colleagues are eating such beautiful food while she's munching on styrofoam. To add insult to injury, she knows she can cook better than any of these girls. But she's on a "diet", she has to eat "diet food" and she doesn't know about the "Paleo Possibilities". I bet you that if she told them she had Pesto Meatballs with Cauliflower Polenta they'd all be asking her for the recipe! And guess what, she wouldn't hesitate to share the recipe with them because she's awesome! She would even mention that she found it on CookPrimalGourmet.com! (You see what I did there? Totally shameless plug!)
For the Pesto Meatballs recipe, please click here.  Simply take the finished meatballs and serve them over this Cauliflower Polenta instead of the Zpaghetti, which is an equally deceptive recipe title, if I do say so myself! Also, if you read my last post, you will remember that I promised to show you a clever way to use pine nuts as a replacement for Parmigiano-Reggiano. Happy to say that the trick worked like a charm!
Please give this recipe a go and let me know what you think in the comments below!
Cheers,
Ronny
Cauliflower Polenta
Ingredients:
1 Head Cauliflower – cut into florets
1 Tbsp Ghee
Sea Salt to taste
Method:
Bring a large pot of water to a boil.
Add cauliflower florets to the pot and cook over high heat until fork tender.
Drain the cooked cauliflower in a colander placed overtop of a bowl – you want to try to reserve a bit of the cooking liquid for the next step.
Transfer drained cauliflower to a food processor along with 1 Tbsp ghee and a pinch of sea salt. Pulse until you reach a thick yet smooth consistency. If your polenta is too thick, add a tbsp of the cooking liquid to loosen it. Don't add too much liquid or it will become too runny.
Taste for seasoning and adjust salt as desired.
To serve: spoon polenta into individual serving bowls, ladle in a meatball with some extra sauce, and garnish with finely sliced scallions and shaved pine nuts (Just make sure to call it "Pine-igiano-Reggiano").
Enjoy!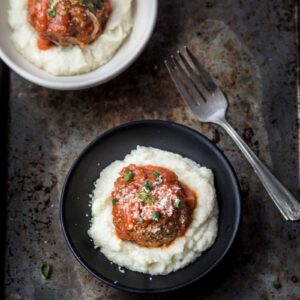 Pesto Meatballs with Cauliflower Polenta