If you're subscribed to my YouTube channel you've probably seen my recipe on Shakshuka. In the video I mention the fact that there are a variety of ways to prepare the classic North African/Middle Eastern dish and if you read through the comments section you'll realize I wasn't kidding. Hundreds of people have shared their opinions (some more kindly than others!) on what "real" Shakshuka is. It's become very clear that this is one of those recipes people hold close to their heart.
Nearly everyone has a different idea of how it's supposed to be made. Even the word itself is highly controversial. Depending on where you are in the world, it might be called something entirely different. In Turkey it's referred to as menemen, in India it's simply an egg curry, and in Italy it can be referred to as uova in purgatorio.
All I know is that when you cook eggs in a rich and spicy tomato sauce you're left with one of the most delicious things imaginable. This version uses the same technique to prepare the sauce and eggs but replaces middle-eastern flavours with southwestern ones. The end result is something truly special!
Give it a go and let me know what you think in the comments below!
Cheers,
Ronny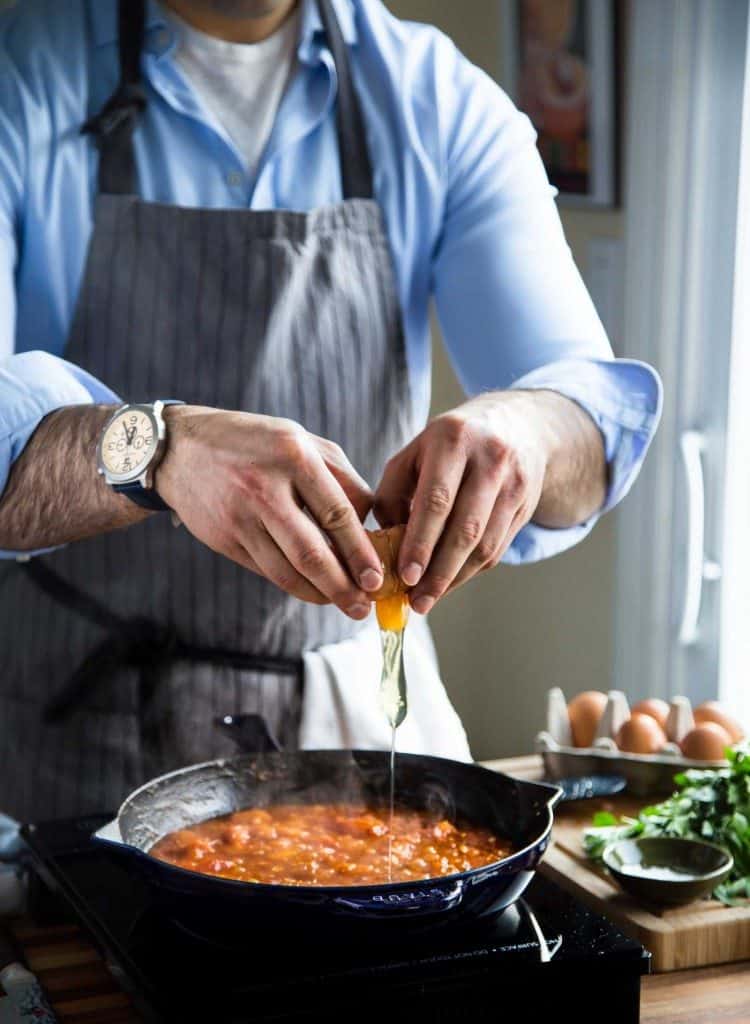 A very special thanks to Zwilling J. A. Henckels for generously providing the Staub 10″ Fry Pan, Miyabi 6000MCT 6″ Gyutoh and Twin Bamboo Board used in preparing this recipe.
Southwest Shakshuka with Chipotle and Cilantro
Serves 2-3
Ingredients:
6 organic, free-range eggs
3-4 large tomatoes – preferably vine ripened
1/2 medium red onion diced
3-5 cloves garlic
1 avocado – deseeded, peeled and sliced
1 handful cilantro – roughly chopped
1 tsp smoked paprika
1 chipotle pepper – with a tbsp of sauce it's packed in
Salt and Pepper
4 tbsp Extra Virgin Olive Oil (EVOO)
Method:
Heat a large nonstick skillet over medium-low heat. Add in 4 tbsp EVOO.
Add onions and garlic to the oil, season with a pinch of salt and sauté for 10-15 minutes until translucent and soft. Stir occasionally to avoid burning.
Add 1 tsp smoked paprika and toss to coat the onions and garlic. Toast for 1 minute, stirring constantly to prevent burning.
Add in tomatoes, finely chopped chipotle pepper, 1 tbsp of the sauce it's packed in and season with another pinch of salt and freshly cracked black pepper.
Stir everything together. Set the heat to low and cover the pan with a lid to trap the steam. Continue to cook the tomatoes for 10-15 minutes, stirring occasionally to prevent the bottom of the pan from burning.
TIP: if tomatoes begin to dry-out or start to burn, simply add in ¼ cup of water to the sauce.
Once the tomatoes have broken down into a chunky sauce, remove the lid and begin to crack the eggs directly into skillet. TIP: Using your wooden spoon or spatula, create a small hole in the sauce and crack the egg into the hole you've created. This will help the egg to cook into the sauce, rather than over top of it.
Cover with a lid and cook until the whites have firmed-up but the yolks are still runny – approximately 6-8 minutes (Cook slightly longer for more cooked yolks).
Garnish with freshly chopped chilantro and sliced avocado.
Southwest Shakshuka with Chipotle & Cilantro