It seems like the busier I get, the more I struggle with getting in a solid breakfast. I know, I know, breakfast is the most important meal of the day and for Whole30 it is a hard-and-fast rule. Even though I am not on a round of Whole30, I do tend to eat very similarly because of the overlap with Paleo. So, breakfast just makes sense.
Some of the recipes that I've been relying on lately are different variations of these Egg Muffins. I've been tinkering with the measurements and ingredients for a little while and think I've come as close as I'll get to a consistently delicious result.
These egg muffins in particular might just be my favourite yet! They're loaded with prosciutto, red peppers, mushrooms, and green onion. They're easy to make and delicious! They're best served fresh out of the oven and piping hot! But they also keep very well in the fridge for 3-4 days so you can be sure that you'll have breakfast ready to go for the week. In all honesty, I eat these cold, in the car, during my long commute to work when I will either blast some 90's hip hop or listen to my new obsession: the Bon Apetit podcast on Spotify.
The real beauty of these Egg Muffins is their versatility. You can substitute just about any ingredient combinations you want. Feel free to swap the prosciutto for bacon or a compliant sausage of choice, and use up any veggies you have in the fridge. Other combos I like: bacon, broccoli and leeks (a nod to the Quiche Loraine). Chorizo, potoato and kale (an egg muffin version of my Caldo Verde recipe). The list goes on! Like I said, I tested this a fair bit 😉

2 Tips for Egg Muffins
I found that there are 2 important factors that will impact the quality of your Egg Muffins:
Temperature: Resist the urge to bake the egg muffins at a high temperature. Eggs tend to taste best when cooked at low heat. Most recipes I've encountered suggest a 375F or higher oven. I've had far better results with a 325F oven for a longer period of time. Heck, you might even be able to get away with 300F.
Pre-cook your fillings! I cannot stress this point enough! This is particularly important if you are going to be using any raw meat product like sausage because the meat will not be cooked to a safe temperature before the eggs. As for the veggies, they are full of liquid and if you don't cook that off first, your eggs will be very watery.
I have to admit, I've been a skeptic of the Egg Muffin trend that I saw last year. What can I say? I'm a late adopter! But I've started making batches of these on Sundays and they've become real life savers. I usually grab about three muffins as I jet out the door.
I hope you like this recipe and be sure to let me know what you think in the comments below!
Cheers,
Ronny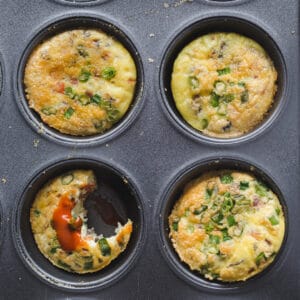 Whole30 Prosciutto, Pepper, Mushroom Egg Muffins
These Whole30 Prosciutto, Pepper, Mushroom Egg Muffins are delicious, loaded with veggies and are easy to make! Best served fresh out of the oven and piping hot! But they also keep very well in the fridge for 3-4 days so you can be sure that you'll have breakfast ready to go for the week.
Ingredients
11

free-range

organic eggs

1/2

cup

compliant full-fat coconut milk

I like Aroy-D brand in the Tetra Paks

6

slices

compliant prosciutto di parma

finely chopped

1/2

red bell pepper

finely diced

10-12

button mushrooms

finely chopped

3-4

green onions

finely sliced

1

tsp

dried chili flakes

1/2

tsp

black pepper

1

tbsp

extra virgin olive oil

EVOO
Instructions
Preheat oven to 325F.

Preheat non-stick skillet over medium heat. Add EVOO and prosciutto. Cook until crispy (approximately 6-8 minutes). Transfer cooked prosciutto to plate and set aside.

To the skillet, add the mushrooms and bottom halves of the green onions. Cook approx. 4-5 minutes or until mushrooms have softened. Add red bell peppers and season with freshly-cracked black pepper. Cook additional 4-5 minutes. Add chili flakes and cook additional 60 seconds.

Return cooked prosciutto to skillet and toss to combine. Set mixture aside and let cool.

Crack eggs into a large mixing bowl. Add coconut milk and whisk until thoroughly combined and smooth.

Place a 12-cup muffin tin over a rimmed baking sheet to catch any spills. Using a spoon, equally distribute the prosciutto and veggies mixture into the individual muffin cups. Ladle in the egg mixture overtop. Garnish each muffin with the sliced green onion tops.

Transfer muffin tin to oven and bake approx. 25 min or until you can insert a cake tester (or toothpick) and it comes out clean.

Serve on its own or with compliant hot sauce, salsa, aioli or guacamole.