I've never met a guacamole I didn't like. Except those pre-packaged guacs you sometimes find in the lettuce section of the grocery store. I don't like those. Nothing against you if that's your idea of a good time. I will, however, question whether or not you have a soul.
I'm sure there are some half-decent products out there but pre-made guacamole in general is not the best idea. The main ingredient in all guacamoles is avocado (at least, it should be) and if you've ever cut into one you know how short of a window you're dealing with when it comes to taste and texture. The average lifecycle of an avocado usually goes something like this: hard, hard, hard, hard, hard, ripe, spoiled.
I get it! You didn't plan ahead and forgot to purchase avocados. You go to the store and all the avocados are hard as rocks but you've got friends coming over and are in desperate need of some guac. What do you do? Do you buy the pre-made stuff?
NO! Absolutely not! Nor do you try microwaving a hard avocado because that just doesn't work. Instead, you need to start getting into the habit of ALWAYS HAVING AVOCADOS ON HAND. Otherwise, no guac for you! You're better than that pre-made stuff. You know you are!
When your avocados do finally come around to being perfectly ripe, it's time to make some guacamole. You can use my all-time favourite Guacamole recipe, for which I have a YouTube video. It's got a secret ingredient that adds a subtle smokey and spicy kick. I highly recommend it but I'm also highly biased.
If you're looking for something a bit simpler, possibly more 'authentic', then this Guacamole recipe might be more your speed. It's unbelievably basic but also outrageously delicious. It just so happens to be Whole30 compliant and is always a crowd pleaser.
What is not necessarily authentic is the side of Spiced Pepitas I am serving it with. Nor are the veggie dippers. The idea is to first dip the veggie into the guac and then into the pepitas. The guac will act as a glue and the pepitas add some crunch and spice.
Sure, you can serve this with tortilla chips (paleo-compliant ones or otherwise), but the veggies keep things light and nutritious. I say give them a shot. But you're the boss, applesauce!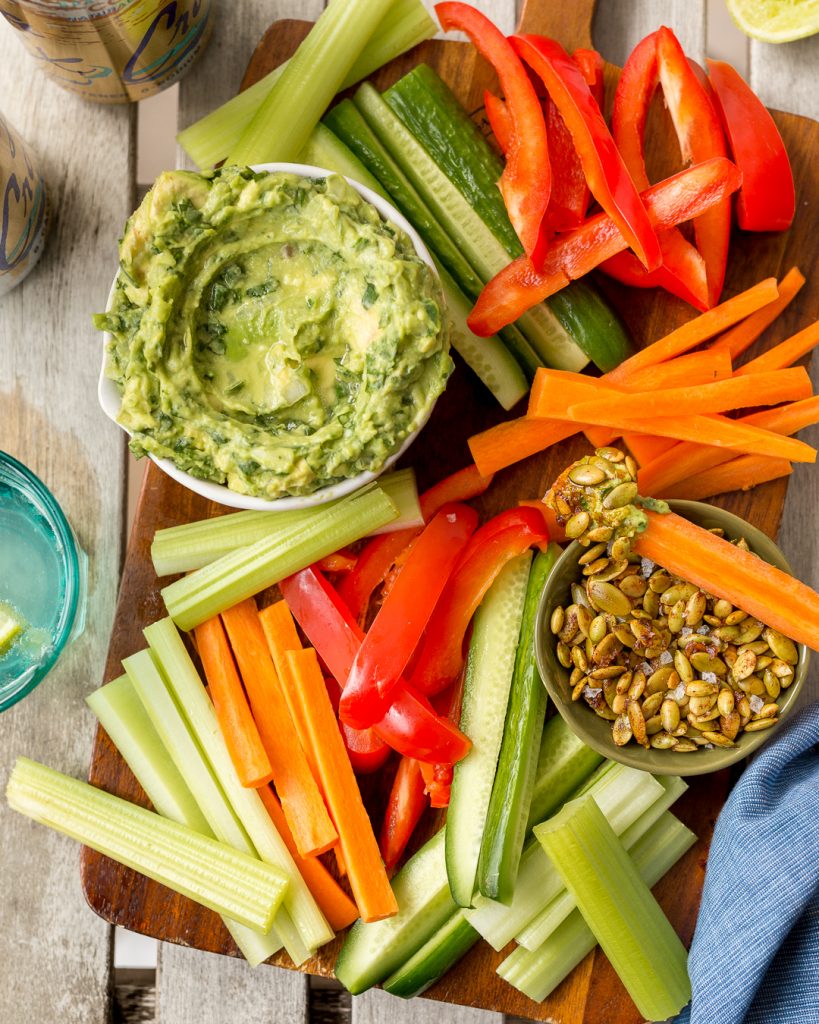 Whole30 Guacamole with Spiced Pepitas
Ingredients
For Whole30 Guacamole
2

avocados

1/4

cup

white onion

finely diced

1/4

cup

fresh cilantro leaves

finely chopped

kosher salt

to taste

juice of 1 lime
For Spiced Pepitas
1/4

cup

raw, plain pepitas (pumpkin seeds)

1

tsp

spicy, smoked Spanish paprika

1/2

pinch

flakey sea salt

1

tsp

Extra virgin olive oil

EVOO
Instructions
For Whole30 Guacamole
Add all ingredients in a mixing bowl. Stir until smooth yet slightly chunky. Taste for seasoning and adjust salt or lime juice as required. Serve immediately.
For Spiced Pepitas
Add pepitas to a cool, non-stick skillet. Set over medium heat and toast seeds until slightly warm (approx. 4-5min). Add EVOO and paprika. Toss everything to coat and cook an additional 3-4 minutes, stirring constantly to avoid burning. Season with a pinch of flakey sea salt. Transfer to serving bowl and let cool before serving with guacamole and sliced veggies.